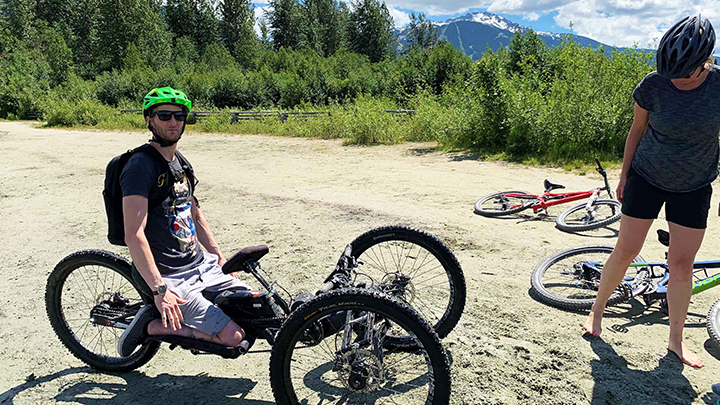 Respiratory therapist Matt MacKay rides an adaptive bike in Whistler, B.C., one year after suffering a traumatic spinal cord injury in a mountain-biking accident. Photo supplied.
Matt MacKay rides on after spinal cord injury on mountain bike
Story by Blain Fairbairn
In just a split-second, Matt MacKay's life changed forever. The young outdoorsman, who loved to charge hard on his snowboard and mountain bike, would go from treating severely injured patients to becoming one himself.
It was July 2018 when MacKay slammed into a tree near Fernie, B.C., while mountain biking with friends. Despite a traumatic injury that damaged his spinal cord, he vowed his new reality would not stop him from living life on his terms.
"Search and rescue arrived after about 45 minutes, did a quick assessment and then called STARS (air ambulance) to bring me into Calgary," he recalls.
"I laid in the forest, made jokes and tried to keep from thinking about what was going on. But I had a good idea this was permanent, it wasn't going to change."
STARS flew MacKay to Foothills Medical Centre (FMC) in Calgary, where he spent almost two months recovering. He's is no stranger to the hospital; as a respiratory therapist (RT) working with patients in the Foothills' ICU, he's used to dealing with bruised and battered bodies on a regular basis.
When doctors confirmed his suspicions about the severity of his injury — that he was paralyzed below the waist — MacKay chose optimism and a positive attitude.
"I was making a lot of jokes again, just trying not to think about it too much. I said, 'that's okay, now we can move to a bungalow, that'll be good … I've always wanted a bungalow'.'"
After his discharge, he spent two more months at home, settling into a new routine, learning a way of life so different from his years as an active back-country enthusiast. By December 2018, he returned to work on a modified program. By early 2019, he'd resumed almost all of his regular duties.
While learning to live in a wheelchair has been a challenge, MacKay says the support he gets from management and his colleagues has eased his transition.
"They essentially allowed me to do what I thought was appropriate," he adds. "They called in extra staff to cover so I could start slow and build up to where I was comfortable enough to return to a full slate."
With the exception of doing chest compressions, he's again performing almost all his regular tasks. It requires careful attention, however, to navigate his wheelchair in cramped spaces when he visits patients in rooms with two beds.
MacKay's experience has been enriched by other healthcare workers at FMC, colleagues whose lives have also been impacted by spinal cord injury. He's met an emergency department physician who, after a skiing accident, now treats patients from a wheelchair. He's also befriended a patient liaison from his rehabilitation unit, with whom he co-facilitates education sessions for patients with spinal cord injuries.
"When I first came into the emergency department the respiratory therapist there was one I helped train," he says. "I knew all the people in the room.
"When I was in rehab, I knew so many people, too. It felt strange to be on the other side of it, but it helped me. I knew what was going on, and I knew the process, because I had worked with spinal cord injury patients before. It made it a lot easier to deal with my situation."
On the first anniversary of his accident, MacKay's fiancé took him to Whistler B.C. where he rented an adaptive mountain bike — and hit the trail for the first time since his injury.
This natural next step allowed him to once again enjoy cruising down a mountain — albeit from three wheels instead of two.
"That was really cool, I've been saving up to get an adaptive bike," he says. He's also tried skiing, but didn't get a chance to explore it much, after the pandemic shut down ski hills last spring.
"I'm trying to back into it all. I'd rather be active than just hang around."