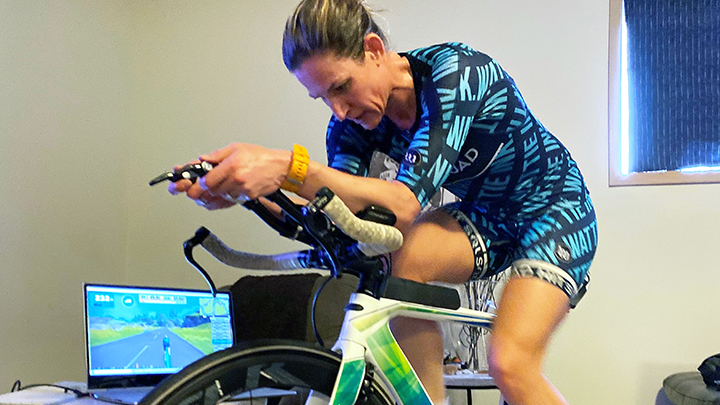 Edmonton athlete Melissa Tilburn keeps in competitive shape with virtual races and courses at home, but finds the friendships she's made online also boost her mental well-being. Photo supplied.
Glenrose orthotist treasures online friendships during triathlete training
Story by Sharman Hnatiuk
EDMONTON — Every Tuesday night, Melissa Tilburn clips in and joins a worldwide community of cyclists from around the globe. While the COVID-19 pandemic has prevented international travel, as well as competitions for triathletes like Tilburn, the Edmonton athlete has found a way to feed her competitive spirit through virtual at-home rides and races.
An orthotist at Glenrose Rehabilitation Hospital, Tilburn has worked here for the past 17 years designing, fabricating and fitting orthotics braces and supports for her patients.
While she always transitions her training indoors in winter, during the pandemic she's come to appreciate more than ever the camaraderie and support of her fellow facers.
Every week, Tilburn races and trains as part of a seven-member team of women who were brought together by the same sponsor. Although she has never met her teammates in person, her friendship with them has proven essential to her mental health.
"Even though I get to interact with colleagues and patients at work, the pandemic and restrictions still feel isolating," says Tilburn.

"Although we've never met, my teammates feel like family. We message throughout the week. It's a safe place to tell a joke, to ask a fitness question, or to reach out to say if we are struggling. These women have become a huge source of support for me."
Since the start of the COVID-19 pandemic, virtual health and wellness has become the norm, but isolation can still be challenging for individuals who feed off the group-class experience for motivation or accountability.
While Tilburn pays to access a cycling platform that requires a bike and indoor trainer, she encourages others to use what's available within their means — whether it's free fitness classes on YouTube or the bicycle in the garage.
"Finances or access to equipment shouldn't be a barrier to improving one's health and wellness," Tilburn adds. "I found a fitness community online during the pandemic. Let my story help inspire you to make your own connections."