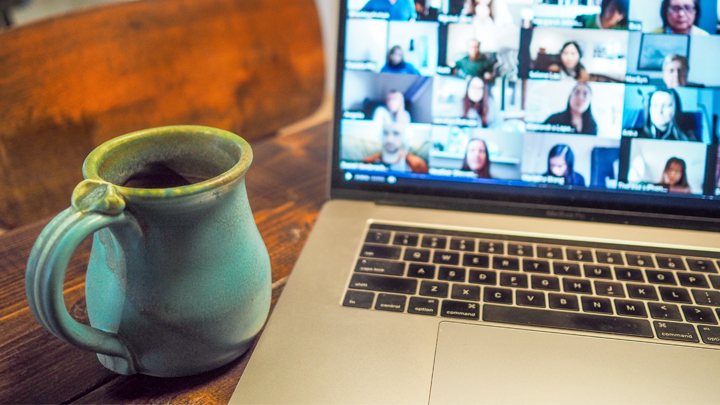 Clients with addiction and mental health difficulties can now gather as a virtual group to learn how to manage symptoms and offer peer support through Psychosocial Rehabilitation (PSR) Virtual Connections, a new program offered by Alberta Health Services. Photo supplied.
Online group offers peer support to manage symptoms, navigate daily life
Story by Tracy Kennedy
Even on her worst days, Kona Gilbertson can reach out for support by logging onto her computer. Though she may feel isolated due to her mental health, her rural location and the pandemic, she's getting the help she needs through Psychosocial Rehabilitation (PSR) Virtual Connections, a new Alberta Health Services (AHS) program.
The program helps clients live as fully as possible despite the symptoms of mental illness and/or addiction. Born out of COVID-19 and temporary changes to some inpatient services at Centennial Centre for Mental Health and Brain Injury in Ponoka, the program offers a range of courses and sessions including: managing anxiety, peer support, relapse prevention, interpersonal and intrapersonal skills, and coping strategies.
"I've noticed I'm feeling more balanced and more hopeful," says Gilbertson. "My friends and family have all noticed that my small coping skills have turned into larger coping skills, to give me more freedom to be able to live the life that I want to live."
It wasn't always so. Less than a year ago, the Spruce View-area woman found herself struggling with daily life. She experiences anxiety and depression, and also spent some time in hospital during a life crisis. After she left, while receiving support from mental health professionals, she was also referred to the program.
She says she's getting better at applying the lessons she's learning to her relationships and her day-to-day activities. For example, when she felt overwhelmed while grocery shopping, she was able to ground herself by using her five-senses coping technique.
"The program's worked on my self-esteem. It's given me structure. It's helped with so many things," adds Gilbertson. "Even though I may still struggle, I'm struggling less, and the episodes aren't as severe. I went from feeling disconnected from everybody to being part of the community."
Program manager Shelly Brake says she's seeing a lot of interest in PSR Virtual Connections. The first round of the program ran with 17 clients for eight weeks in 2020. The second round began in January for a group of 30.
"We know that a lot of clients with mental health issues tend to be quite isolated. And one of the leading indicators of recovery is that sense of social connection and support," says Brake.
"Through the program we've seen clients light up as they engage with one another, build relationships and learn strategies to cope with the symptoms of their illness. It's a very gratifying part of our work. It's like you can see the darkness when they first started the program and, as things progress, you see this light that shows up and shines from within. It's powerful to witness."
Brake acknowledges that the program isn't for everyone, however. Those who are going through crisis, or are in need of medication adjustments, are more likely to need inpatient services. Clients should already be connected with a community service provider such as an AHS physician, psychiatrist or other clinician. The program is intended as an additional resource to the services that they and their families are already receiving.
For Gilbertson, the virtual program came at the right time, in the right place. Delivered at home, it breaks down the barriers to attendance and eases a sense of connection to others, making the program invaluable.
"Whether it's learning about something to take your mind off of things, talking about it or just being listened to," says Gilbertson. "As bad as some days can be, you can still get yourself to your computer on the days you most need it."