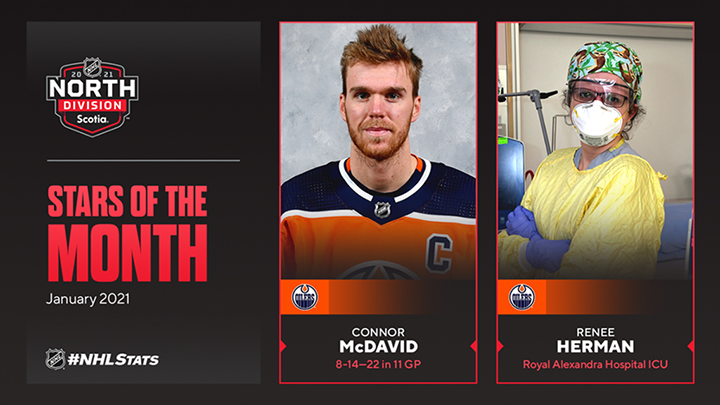 Edmonton Oilers captain Connor McDavid and Registered Nurse Renee Herman of the Royal Alexandra Hospital have been named the National Hockey League's Scotia North Division Stars of the Month for January.
Oilers' Connor McDavid shares spotlight with ICU nurse Renee Herman
Story by Sharman Hnatiuk | Photo courtesy of NHL
EDMONTON — Being named a National Hockey League (NHL) star of the month rarely, if ever, falls within the scope of practice for an intensive care nurse, but in these unparalleled times it's now a cool reality for Renee Herman of the Royal Alexandra Hospital (RAH).
When Connor McDavid was selected for the NHL's Scotia North Division Stars of the Month for January, the Edmonton Oilers captain shared the spotlight with Herman, a registered nurse in the ICU at the Alex.
This season, the NHL is also celebrating the remarkable efforts of off-ice stars, who make it possible for the league to play hockey, by honouring front-line healthcare heroes from the regions represented by the league's weekly and monthly stars.
In addition to being named in the NHL's news release announcing the January star selection, Herman received a personalized video message from McDavid himself.
"I just want to take a second to say thank you so much for everything that you do at the Royal Alexandra Hospital," he says. "I know you work in the ICU. Obvious with everything going on, I can't imagine what you've been going through.
"You are a true hero. Thank you so much for everything."
A registered nurse since 2010, Herman has worked in the RAH ICU since 2014. She was nominated by her managers who felt that throughout the pandemic, she has shown excellent leadership, remained positive and maintained a focus on providing patient- and family-centred care — which has been challenging for staff and physicians on the unit due to COVID-19 restrictions and protocols.
Along with her colleagues, Renee is known for doing her best to update and support family members who can't be at the bedside of their loved ones.
"I was surprised when I learned about the nomination from my managers because working in the ICU means working as part of a team. I feel my whole unit deserves this recognition along with me," says Herman.
"Being named a star alongside McDavid has certainly been exciting. I feel so honoured to be recognized by Connor McDavid, the Edmonton Oilers and the NHL for being a healthcare hero during the COVID pandemic."