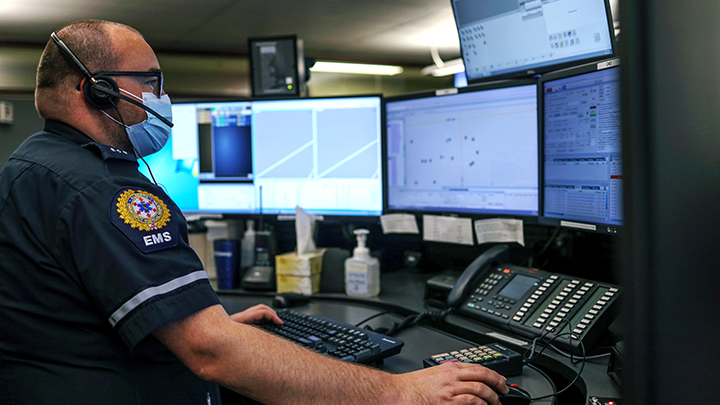 Justin Squires, an Emergency Communications Officer in Calgary, takes a call. After a decade-long initiative, EMS dispatch services across the province — with the recent addition of Calgary, Lethbridge, Red Deer and the Municipality of Wood Buffalo — are now consolidated under the AHS umbrella.
AHS' 11-year initiative boosts efficiency, use of resources
Story by Erin Lawrence | Photo by Leah Hennel
Emergency Medical Services (EMS) dispatch services across the province have all been brought under the umbrella of Alberta Health Services (AHS) after a decade of consolidation designed to improve efficiency and resource management.
"This project improves the way EMS resources, including ambulances, are dispatched. It is more efficient, and allows for better coordination of all provincial EMS resources," says Darren Sandbeck, Senior Provincial Director and Chief Paramedic with AHS EMS.
"While people who call 911 will notice absolutely no change, this allows us to be far more efficient in dispatching and controlling our EMS resources."
Dispatch consolidation means patients have more streamlined access to healthcare services — such as air ambulances and community paramedics — who are specially trained to provide a wide range of diagnostics and treatments in patient homes. Previously, access to these services was not available directly from municipal-dispatch call centres.
The journey has taken more than a decade, from a time when there were 30 EMS dispatch centres. The transition began when EMS became a healthcare responsibility in 2009. Over time, all but four municipalities made the switch.
In response to a healthcare revew by Ernst & Young, and renewed interest in the project in 2020, Health Minister Tyler Shandro made completion of the transition a priority.
As of Jan. 26, 2021, Calgary, Lethbridge, Red Deer and the Municipality of Wood Buffalo have now been successfully consolidated into one of the three AHS EMS dispatch sites — the Northern Communications Centre (NCC, in Peace River), the Southern Communications Centre (SCC, in Calgary) and the Central Communications Centre (CCC, in Edmonton).
In order to manage the additional call volume, EMS hired about 25 Emergency Communications Officers — new positions that were funded with savings from the consolidation, estimated at $6.2 million annually.
"Prior to these recent transitions, the four municipalities used AHS-provided software and mapping — and AHS dispatchers continue to have precisely the same information at their fingertips following the dispatch transitions," says Marty Scott, Executive Director of EMS Provincial Programs.
"Ambulance service in each community continues to be delivered by the same local paramedics who have always provided this service. These local professionals know the streets, locations and neighbourhoods, and as a team will continue to work with EMS Dispatch to respond to any emergency in every local community."
AHS EMS transition teams have worked tirelessly over the last six months, through the challenges of a global pandemic, to bring these transitions to today's successful conclusion.
"As we move forward in this new consolidated environment, we would like to recognize the contribution of the four municipalities," says Sandbeck.
"We thank them for their partnership over the years, and reiterate that we will continue to work closely with them, and all our municipal partners, to address any concerns that may arise."