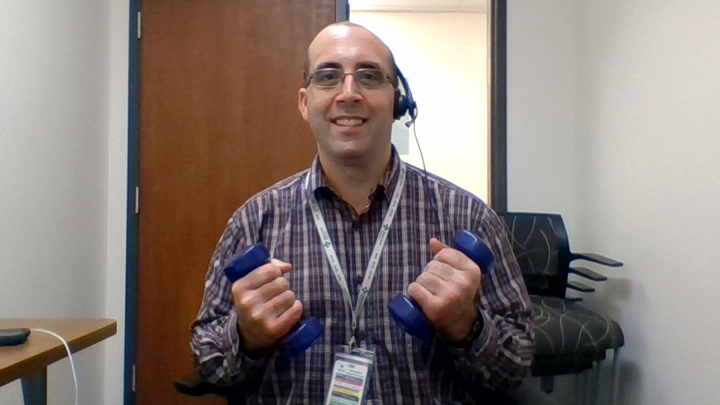 Exercise therapist Andrew Holosney leads a class in the Alberta Healthy Living Program's virtual exercise program on Zoom for residents across the North Zone. Photo supplied.
North Zone residents enjoy simple yet effective workouts at home
Story by Logan Clow
Getting to an exercise class has never been easier for Cheryl Dwernychuk. Like many Albertans, she's improving her health and wellness with simple and effective exercises, offered by Alberta Health Services (AHS) through its Alberta Healthy Living Program (AHLP).
To boost her motivation to exercise and to learn how to do it properly, the Saddle Hills County resident recently registered for the free eight-week North Zone Exercise Program. She and other participants meet online twice weekly a week via Zoom for 90-minute classes, led by Andrew Holosney, an exercise therapist, and Susan McGhee, an exercise therapy assistant.
"I live in a remote area, so I enjoy being easily able to access classes like this that can help you," says Dwernychuk, who lives near Spirit River, 78 km north of Grande Prairie.
"For me, it's an hour drive to get to a community where there may similar classes. With this program, all you need to do is log into Zoom. It's so easy to participate from your home. It's so convenient. I've recommended the program to a number of friends."
This program is open to Albertans over 18 who are living with a chronic condition such as high blood pressure, high cholesterol, arthritis, anxiety or depression. The course is also available to residents who wish to prevent chronic conditions through physical activity.
"Participants are able to join in and exercise from the comfort and safety of their own homes, or wherever they may be," adds Holosney, who's helped facilitate the exercise program for several years. "We want participants feeling comfortable exercising in their personal environment, so that they can continue doing the exercises on their own after they've finished the program.
"We use simple exercises that are effective. Participants can do the exercises anywhere, without the need for any fancy equipment. Within our eight-week program, participants really see improvements in their cardiovascular fitness, muscle strength, balance, flexibility and quality of life."
Before their first class, Holosney meets individually with each participant to discuss their health history and any modifications they may need to make for particular exercises. As well he shares safety reminders, explains how the program works and help the participant set goals.
Each class begins with a warm-up, followed by exercises that focus on strength, flexibility, balance and cardiovascular fitness. Exercises are conducted at a moderate pace. Participants are encouraged to take rest and water breaks whenever they need to. Each class also features discussions on health topics.
Dwernychuk says she's already noticed improvements in her overall health and wellness.
"I needed motivation to get moving, and I do have a weight problem, which is why I decided to register," she says. "I'm in my late 50s and I had started to feel a lot older than I should.
"I've taken a lot of the exercises I've learned from the class and have applied them into my everyday life. Now, I'm exercising more. I've also become more conscious about my diet and what I'm eating throughout the day. I'm really happy with my progress."
Jeff Johnston, who lives in Fairview, 115 km north of Grande Prairie, also signed up for the program in hopes of improving his health.
"A few years ago, I had some health issues and it just caused my weight to go up, and my overall health and fitness to deteriorate quite a bit," he says. "I just got really out of shape. I found that the drive I needed to get healthier was hard, so I decided to join.
"I've really liked the program so far. The exercises are simple, but effective. I'm already seeing improvements with my overall health and energy level. I'm taking the time every day to exercise. The program has really motivated me — and it's provided me that drive I needed to get healthier."
Johnston says one reason he enjoys the program is the support and guidance Holosney and McGhee bring to participants.
"The instructors always take the time to work with each of us to make sure we're comfortable, answer any questions we may have and provide modifications for exercises if we need it. They're really engaging, supportive and fun."
A typical class attracts 10-15 participants for the full eight weeks. The next AHLP North Zone Exercise Program will start in January.
AHLP workshops and classes may vary by zone. For more information about AHLP workshops being offered in your zone, visit Alberta Healthy Living Program. To register, or to find out which AHLP workshop is right for you, please call 1-877-349-5711.