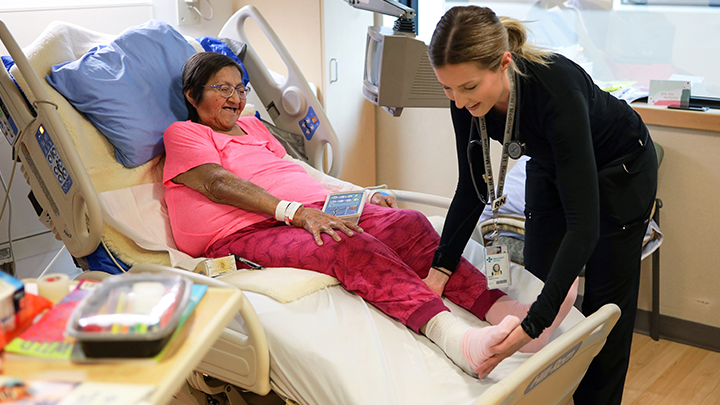 RN Nicole Willson helps patient Karen Young dress in her own clothes and stay mobile to shorten her hospital stay.
Patient feeling in the pink thanks to new mobility initiative
Story by Tracy Kennedy | Photo by Leah Hennel
RED DEER — A few broken bones aren't going to keep Karen Young down for long.
Wearing bright pink sweatpants and hoodie, the 60-year-old patient regularly gets out of her bed and into her wheelchair to roll around Red Deer Regional Hospital Centre (RDRHC) in style.
The Maskwacis resident has been in hospital for nearly two months following a nasty fall.
"I stepped out of the truck and heard my left femur break and went down like a sack of potatoes," says Young, who is susceptible to fractures due to osteoarthritis and long-term kidney disease.
Yet Young is hopeful she'll be back home sooner than later, thanks to a new voluntary initiative at RDRHC called End PJ Paralysis.
PJ paralysis is a term used to describe the negative effects experienced by patients who spend lengthy periods of time inactive and in their pyjamas or gowns while in hospital.
Barbara Torres, an Alberta Health Services quality improvement consultant, says the initiative works to combat the functional decline that comes with prolonged bed rest and enhance patient experience, dignity and outcomes.
"Long-term patients can have a higher risk of infection and incontinence, and lose mobility, fitness and muscle strength," says Torres. "The End PJ Paralysis program encourages patients to get dressed and get moving to speed their recovery and shorten their hospital stay."
The promise of positive results is why Young has her husband bring her favourite-coloured T-shirts and hoodies to wear, instead of braving her stay in a light hospital gown.
"Physically, getting dressed makes you feel so much brighter, so much more lively," Young says.
"It motivates you mentally and physically to try to do something because lying in bed so long can make you feel depressed.
"When I get dressed, I feel better."
Originating in the U.K, the initiative has been implemented in some AHS facilities in the Edmonton and Calgary areas, with Red Deer the latest to join.
In a survey of patients who took part in the pilot phase of the program at RDRHC, approximately 73 per cent strongly agreed that getting dressed encouraged them to move. Roughly 74 per cent said it made them more likely to get out of bed.
"It's very promising to see patients — some with very serious health concerns — with a more optimistic outlook as a result of getting dressed," says Laura Garrett, nursing instructor and coordinator of the program on one of two RDRHC units.
"Wearing their own comfortable clothes gives them dignity, helps their mood and inspires them to take on the day," Garrett says.
Sheila Hill, a clinical resource nurse and another End PJ Paralysis coordinator, says they support the patients where they can.
"We try to have them sit up in bed when they have visitors, do a little exercise, walk the unit," says Hill. "Every little bit helps—and wearing their own clothes give that bit more comfort or motivation."
Ultimately, patients will need to transition to life after the hospital. As many as 80 per cent of patients surveyed suggested that getting dressed helped them get back into their normal routines.
Especially if their clothes are pink, like Young's.
"My ultimate driver is to get back home," says Young. "Getting dressed makes me feel more alive, and gives me some normality."