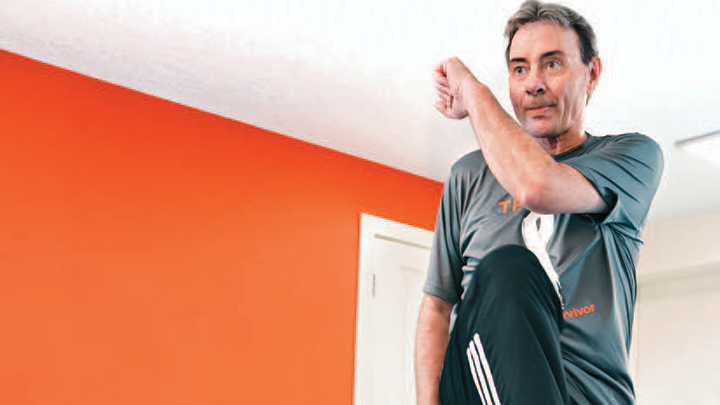 The Thrive Centre's fitness programs ease the cancer journey
Story by Doug Firby | Photo by Ewan Nicholson
Trevor Willmer hadn't exercised a day in his life, until tongue cancer turned his life upside down.
As he prepared for radiation therapy, he was asked to take part in a study measuring the effects of exercise on cancer and its treatment. He jumped at the chance.
The Thrive Centre is based at the University of Calgary's Faculty of Kinesiology. It offers space to conduct studies and programs designed to benefit patients by keeping them active during cancer treatment.
The centre was founded in 2011 by Nicole Culos-Reed, PhD, a UCalgary kinesiology professor, and Lauren Capozzi, now a physician and physiatry resident in Calgary. (Physiatrists diagnose and treat both acute pain and chronic pain and specialize in nonsurgical treatments for the musculoskeletal system.)
Volunteers, mostly kinesiology students, run the Thrive Centre gym. The Totem Charitable Foundation provided funding for equipment.
The Thrive Centre supports programs and research for cancer survivors, as well as caregivers. One research study, Alberta Cancer Exercise (ACE), involves a free 12-week class offered in several communities across the province.
"We are unique," says Culos-Reed, who is also a researcher at Alberta Health Services Tom Baker Cancer Centre. "We are absolutely the only centre of its kind across Canada."
The centre's team is gathering data on how active living can help patients manage symptoms, slow down declines in fitness and strength, and speed recovery from cancer treatments.
Culos-Reed says the five-year 2019ACE study will have close to 1,000 participants from across Alberta by early 2019.
When patients enrol, they get a fitness assessment and customized exercise program that is delivered in a group setting. They participate for free during treatment. Many, like Willmer, pay a small fee for a maintenance program once treatment ends.
Culos-Reed believes the results will eventually persuade health providers across Canada to include wellness programs in cancer treatment.
"There's so much evidence," says Culos-Reed. "We know exercise needs to be a standard part of care for so many people with cancer."
It has been five years since Willmer was diagnosed. Now 52 and cancer-free, he continues to work out. And Willmer says the support he found through the Thrive Centre helped him through his cancer journey.
"The people at the Thrive Centre were so supportive," he says. "It was the exact place I needed to be."
Find out more: To learn more, go to thriveforcancersurvivors.com or email wellnesslab@ucalgary.ca.