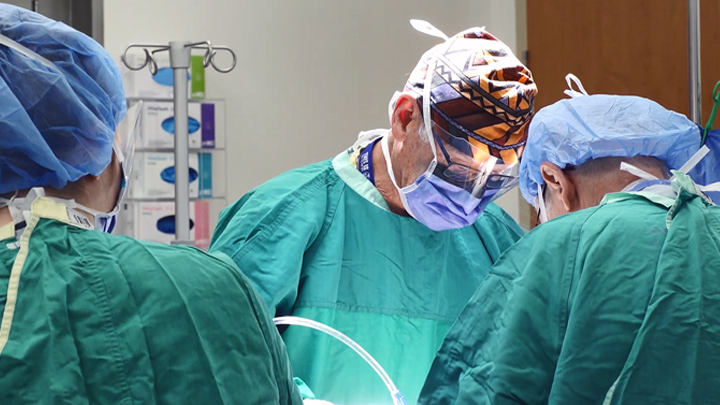 Alberta Trauma Services provide a gold standard of care for patients with complex and life-threatening conditions.
Alberta Trauma Services achieves full provincial Trauma Distinction from Accreditation Canada
Story by Niall Emmott
Alberta Trauma Services (ATS) has become the first provincial trauma system in the country to achieve Trauma Distinction from Accreditation Canada.
This award recognizes that Alberta Health Services' trauma system, which connects different facilities and services that care for patients with complex and life-threatening conditions, demonstrates the highest standards of clinical excellence and an outstanding commitment to leadership. Albertans can be confident that if they experience a severe injury, they will be accessing a consistent, gold standard of care in the 10 established trauma centres across the province.
"The end result was definitely worth the long, hard road to get there," says Dr. Ioana Bratu, physician and site section chief for trauma at the Stollery Children's Hospital in Edmonton. "Trauma care at the Stollery reflects our journey of where we have come from and where we are going."
To achieve this award, Accreditation Canada set 19 standards to be met. The standards are rigorous to ensure patients will receive the best possible level of care and excellence from every aspect of the trauma system, from intake to rehabilitation.
"The Trauma Distinction accreditation process has highlighted the excellent care provided by Alberta Trauma Services every day," says Tim Baron, Acting Executive Director, Surgery Strategic Clinical Network (SCN). "So many areas work together to provide care for Albertans who have experienced a traumatic injury. Both the Surgery and Emergency SCNs are happy to have been able to support this process."
This journey to completing full provincial trauma distinction has seen the achievement of major goals, including the completion of the self-assessment of standards for each trauma centre and the provincial system as a whole, as well as the preparation of standardized provincial protocols. These protocols ensure trauma care across the province is consistent.
"Completing the trauma distinction program has enabled us to assess and reflect upon how we are providing care in Alberta and at each of our 10 centres," says Rosmin Esmail, Provincial Trauma Epidemiologist, Trauma Services. "It has also enabled us to identify where there may be gaps in service and areas of improvement, so that we can strive toward best practices in trauma care for our patients."
AHS Trauma Services' focus now shifts to areas of further improvement to ensure trauma system sustainability and upholding the standard of high quality trauma care for all Albertans.
For more information, visit ahs.ca/traumaservices.