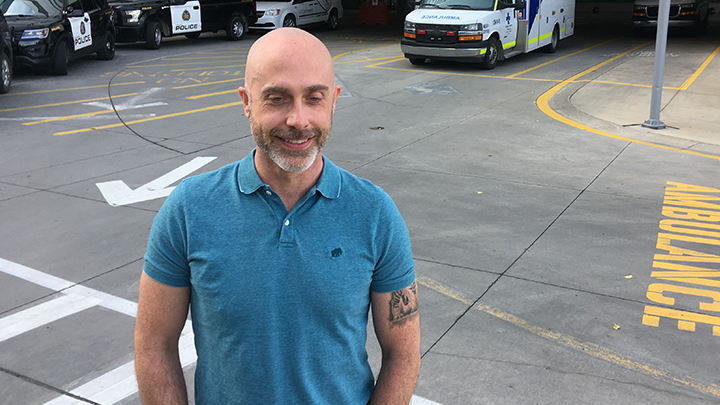 Findings from an international study led by AHS physicians and University of Calgary researchers helped confirm that Matthew Miller experienced a minor stroke. The study will help physicians better determine if an MRI can prove or disprove a stroke in patients who don't present with typical symptoms.
Teamwork by AHS, University of Calgary researchers highlights value of MRI
Story & Photo by Blain Fairbairn
CALGARY — An international study led by Foothills Medical Centre (FMC) physicians and University of Calgary (UC) researchers highlights the importance of magnetic resonance imaging (MRI) in helping to diagnose minor stroke and transient ischemic attacks (TIAs).
The six-year study — which included researchers from hospitals in Canada, Australia and the Czech Republic — involved 1,028 patients who experienced a number of symptoms that aren't always associated with stroke, such as numbness, dizziness, very short episodes of weakness or difficulty with speech.
Principal investigator Dr. Shelagh Coutts, a neurologist at FMC and professor in the UC's Cumming School of Medicine (CSM), says that because the risk of stroke increases after a first TIA, it's important that physicians are certain of the diagnosis in low-risk cases with non-traditional symptoms.
Patients with motor or speech symptoms lasting more than five minutes are at high risk of having a stroke and must been seen urgently. The problem is that more than 50 per cent of patients with possible symptoms of a TIA do not have these particular symptoms.
"If you don't have motor and speech symptoms, the diagnosis is a lot less clear — so patients with numbness, dizziness or with difficulty walking may not be diagnosed with a stroke syndrome. These patients are, overall, felt to be at low risk of having a stroke," says Coutts, a professor in the departments of Clinical Neurosciences, Radiology, and Community Health Sciences at the CSM and a member of the Hotchkiss Brain Institute.
Physicians involved in the study, Diagnosis of Uncertain-Origin Benign Transient Neurological Symptoms (DOUBT), examined patients within eight days of the onset of their symptoms. They performed a detailed neurological assessment, took a patient history, made a diagnosis and then did an MRI scan within the first week, followed by a second diagnosis.
"We found in this study that there was a 13 per cent risk of having had a stroke," adds Coutts. "This was far higher than we expected in this low-risk population."
Further, in 30 per cent of patients in the study, the physicians changed their diagnosis based on the MRI scan.
"That's not just to change patients to having a stroke," adds Coutts. "There's also the reverse where we thought they might have had a stroke or TIA, but based on a negative MRI scan (and other clinical symptoms), we decided it wasn't."
For patient Matthew Miller, 47, the study findings helped physicians confirm his symptoms were a TIA despite having experienced them for a very brief period — an atypical marker of stroke. He visited FMC after an approximately 90-second period of impaired speech and weakness on the morning on July 29 and received an MRI the following day.

Miller had experienced a similar episode 10 years earlier, but didn't receive an MRI at the time because, like the most recent TIA, his symptoms quickly subsided.
"The clarity as to what's going on, what's happened and the path towards correcting that brings a lot of peace of mind," says Miller, who was not a patient in the study.
After a thorough exam, his care team discovered that a Patent Foramen Ovale (PFO) — a hole between the left and right atria of the heart — was responsible for Miller's TIA. Now that the root cause has been identified, his care team is developing a treatment plan to help prevent further strokes.
"I'm one of the unfortunate few who's susceptible to stroke because of PFO, but what's fortunate is they've now discerned the mechanism that's causing them. Now they can go in, patch the hole and, hopefully, greatly reduce the chance of stroke in the future," says Miller.
"I'm really grateful for the mindset of the clinic and Dr. Coutts in looking at my symptoms and saying: 'We are in a gray area so let's get clarity — is it or is it not a stroke?'"
For patients like Miller, an MRI can be done in the first week on an outpatient basis, says Dr. Michael Hill, a co-author of the paper and a neurologist at FMC.
"It's not an emergency, same-day test," adds Hill, who's also a member of the CSM's Hotchkiss Brain Institute and the O'Brien Institute for Public Health.
"The MRI has an important predictive value. A normal test means that the patient most likely has not suffered a stroke syndrome and the risk of future stroke is very, very low."
The findings were published Sept. 23 in the journal JAMA Neurology. Funding for the study was provided by the Canadian Institutes for Health Research.