Awards program recognizes individual and team achievements for fourth year
Story by Diana Rinne
It's time again to celebrate the great things Alberta Health Services (AHS) people do every day across the North Zone with our SPIRIT Awards of Excellence in areas such as teamwork, leadership, compassionate care and community engagement.
Now in its fourth year, this year's awards attracted a healthy total of 17 nominations, giving our selection committee a challenge as they pored over the many accomplishments of our finalists to whittle the list down to this year's recipients.
In truth and practice, we strive to recognize each other's accomplishments every day, but it's our distinct pleasure here to announce our SPIRIT Award of Excellence recipients for 2018: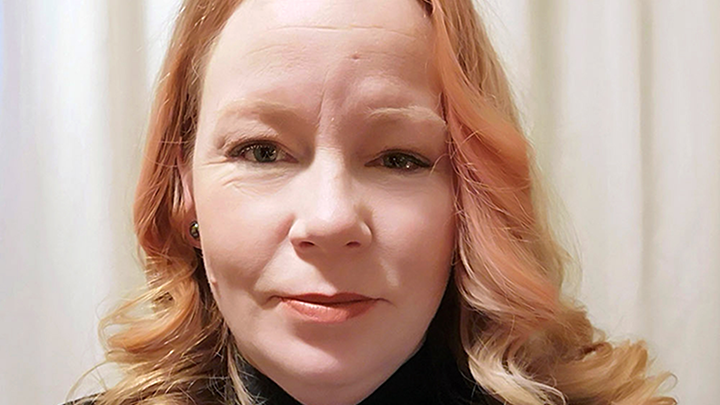 COMMUNITY ENGAGEMENT: Krista Park, Public Health Inspector, Peace River
Krista Park exemplifies AHS values as she continuously strives to engage with both her peers and community in providing advice, guidance, and solutions in regard to air quality in the Peace Region.
A public health inspector in Peace River, she's being recognized for her work with the Peace River Area Monitoring Program (PRAMP) since she joined AHS in 2015.
PRAMP focuses on air-quality issues by monitoring quality and gathering comprehensive data to permit the identification and appropriate response to odor- and emission-related issues in the region.
As a member of the board of directors since the group became a not-for-profit organization, Park encourages and participates in educational outreach on air-quality issues with various partners in schools and at trade fairs, as well as at public meetings.
"Through PRAMP I have developed many connections with community members, municipal governments, indigenous groups and industry," she says. "I value the contributions of all the members of PRAMP, and am happy to contribute whenever I am able. While PRAMP is where I do the most air quality work, I do investigate other air quality concerns in the region. I really enjoy using my expertise to benefit my community.
"I am honoured that people acknowledge my work and notice what I'm doing, I hope to continue to work with my community on their environmental health concerns for many years."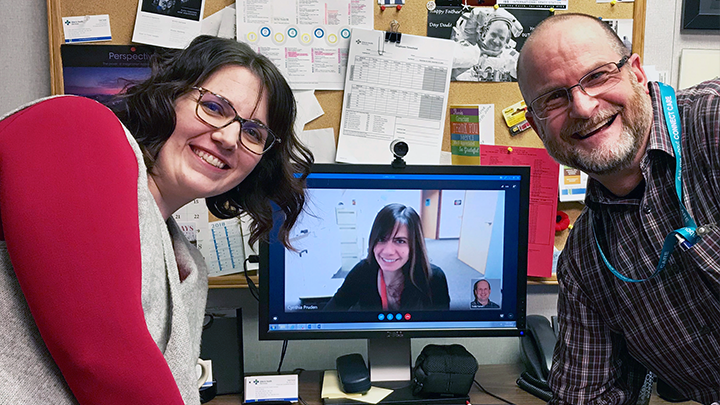 INNOVATION: Speech and Language Screen for Adults (SALSA) Team
Innovation and creativity are words often used to describe the Speech and Language Screen for Adults (SALSA) team. Members include Speech Language Pathologist (SLP) Alaina Gamache in Bonnyville, SLP Vanna Thiel and Occupational Therapy Clinic Lead Todd Farrell in Cold Lake and SLP Clinical Lead Cynthia Pruden in Radway.
The screen was initially developed in 2014 to address a local need for a quick method to identify patients post-stroke who require a speech language pathology assessment for communication as part of the Cold Lake Stroke Unit Equivalency Care Innovative Learning Collaborative. Over the last four years the team has continued to use and refine the screening tool — and in the spring of 2018, the SALSA was further rolled out to Red Deer and Camrose as part of a quality improvement initiative.
"Shocked and honoured, I couldn't believe it," says Alaina Gamache of her reaction to the SALSA team's SPIRIT Award. "It's such a pleasure working with our team and creating something we find out, rurally, that we need. It's just taken off from there."
Gamache says the team enjoyed a lot of support — from frontline staff and management in Cold Lake, Camrose and Red Deer as well as from the Cardiovascular Health & Stroke SCN, and from Agnes Lehman and Heather Sharpe — to get the project off the ground, and to trial it at the sites.
While there's still work to be done, says Gamache, she's incredibly proud of her team's accomplishment.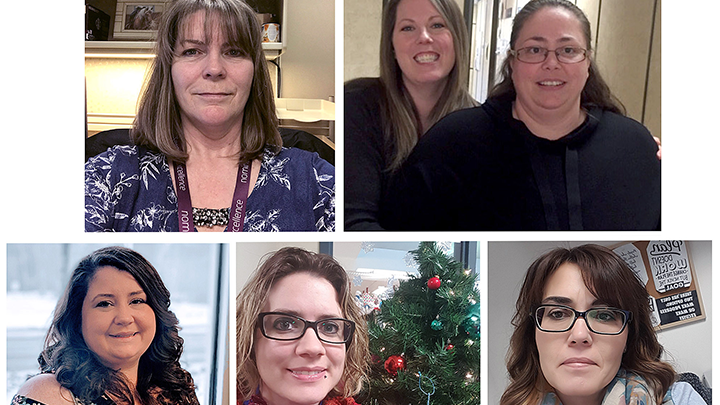 INNOVATION: Environmental Public Health Administrative Team
It takes inspiration and teamwork to merge three completely different systems into one — yet that's precisely what the North Zone's Environmental Public Health (EPH) administrative team has done over the last decade.
As a unified administrative team that provides operational support to EPH across the zone, Laura MacMurchy in Spruce Grove, Tracy Brown in Peace River, Sheena Mitchell in High Level, Nichole Decker in Fort McMurray, and Jennifer Coney and Sheena Lundstad in Grande Prairie, have been recognized with a 2018 SPIRIT Award of Excellence for Innovation.
"When we went from three former health regions into North Zone, we had three different ways of doing everything, you could possibly imagine," says administrative coordinator Laura MacMurchy. "It took quite a while — there's been some changes and lots of learning — but now we can provide coverage remotely, everyone has cross-training, and we do things centralized within our zone. It works really well."
The team has also created a centralized permitting and billing system, implemented and maintains the Rightfax system for the reporting of animal exposures from emergency centres across the North Zone, and has also centralized CD/OM data entry, just to name a few successful endeavours.
"It was exciting," MacMurchy says of the moment she found they were recipients of a SPIRIT Award. "We're appreciative of the management team that put this nomination in, because I've seen the amount of work that goes into this."
The nomination reads: "This team continuously strives for improvements in our service delivery and excellence in our operations. Through their daily engagement, with numerous stakeholders including the public, they demonstrate a high level of professionalism, compassion and respect in everything they do."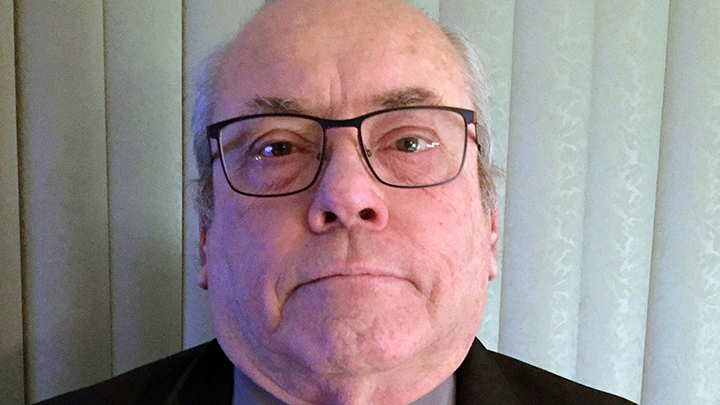 LEADERSHIP: Ron Ree, EMS Station Supervisor, Peace River
One thing that comes with age is wisdom. Ron Ree, EMS station supervisor in Peace River, is a living example. As one of this year's SPIRIT Award of Excellence in Leadership recipients, Ree is the longest-serving peer team member with the North Zone's EMS Critical Incident Stress Management (CISM) team, having dedicated much of his 35-year career in EMS to this volunteer position.
"I was a little shocked and thinking, 'who nominated the old fart, am I in trouble or something?' " he laughs in recalling his first reaction to hearing of his award.
Currently North Zone lead for CISM, Ron has mentored and coached many new CISM peers as well as CISM leads over the years. "The young guys really rely on my knowledge," adds Ree.
"Ron's long-term service as a volunteer CISM peer and lead illustrates all of the AHS Values of Compassion, Accountability, Respect, Excellence and Safety," reads his nomination. "Very proactive with new recruits and staff, senior staff, and leadership, Ron works to promote the awareness of early interventions to help reduce the impact of critical incident stress on our first responders — and improve the overall psychological health and wellness in EMS."
"I've seen the good and I've seen the bad. There's more good than bad and that's why I keep going," says Ree, who plans to continue his work with CISM. "I've got at least 10 years left and I'm going to try and hit my goal of 50 years."
LEADERSHIP: Dr. Sharon Reece, Wabasca
In the short time since she joined the AHS team in Wabasca, Dr. Sharon Reece has made a significant impact, which is now being recognized with a SPIRIT Award of Excellence for Leadership.
A relatively new graduate, Dr. Reece became a full-time member of the medical staff in April, taking on the role of Community Medical Director in November.
Dr. Reece's impact in Wabasca includes improving interdisciplinary communication between nurses and physicians and streamlining the flow of information between physicians and pharmacists. She has also worked with AHS Quality Improvement consultants to optimize the equipment layout and organization of the labour and delivery and trauma rooms. Additionally, she's introduced simulation training to the healthcare team through the AHS eSIM North Program.
"Really, really honoured," she says of the award. "It's been such a pleasure working in Wabasca. We have such a great team here, and it is an honour to be recognized especially since I haven't been here that long."
Motivated by a desire to improve patient care, Dr. Reece says it takes a team to accomplish that goal.
"I think it's about leading a team that has a focused goal. When everybody has the same goal, people are able to use their unique strengths in achieving that goal. I believe that my main contribution to this community has been my willingness to listen. There is already an abundance of wisdom and expertise within the community. My approach has been to listen first, formulate a plan, then roll up my sleeves and get it done."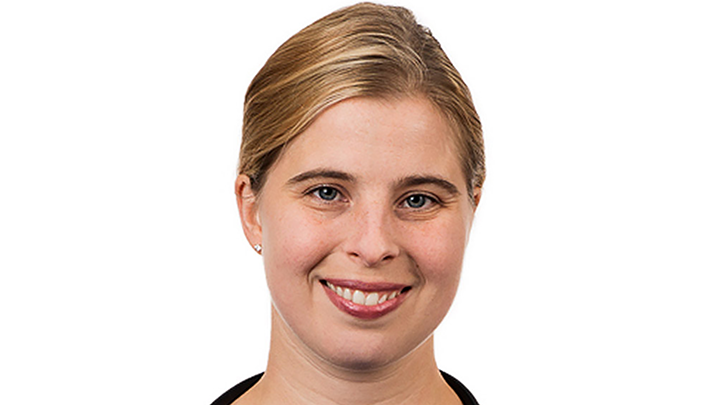 LEADERSHIP: Dr. Magali Benard, Westlock
From increasing community education to enhancing the emergency room and inpatient care process, and from working with the Stroke Team on quality-improvement measures, Dr. Magali Benard has brought valuable leadership in the enhancement of the program and, ultimately, care to the community at the Westlock Healthcare Centre. Her work is been acknowledged with a SPIRIT Award of Excellence in Leadership this year.
"I would like to express my gratitude and many thanks to the team members at the Westlock Hospital who work with me daily on improving patient care and striving for excellence with much enthusiasm," says Dr. Benard.
"It is together that we're able to make such a difference. We are encouraged to keep on going by the patient stories and appreciation. I am honoured to be receiving this award — and hope that together we will inspire others to join us in our continuous effort to improve our patients' health and journeys. Thank you to the Stroke Team for the nomination, it means more than you know."
Dr. Benard's nomination notes she has a wealth of knowledge that she's more than willing to share, and continually empowers and uplifts those around her.
"She is a ray of sunshine and calming presence to staff and patients, alike," reads the nomination.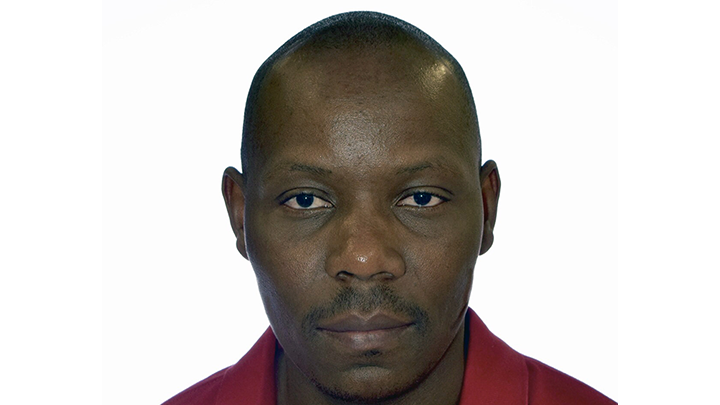 COMPASSIONATE CARE: Dr. Enias Mabhegedhe, Wabasca
Dr. Enias Mabhegedhe has been making connections in Wabasca for the past five years. It's his ability to connect deeply with his patients and their families that has earned him a 2018 SPIRIT Award of Excellence for Compassionate Care.
Originally from Zimbabwe, Dr. Mabhegedhe came to Canada from South Africa after having survived civil unrest and violence in both African nations.
During his time in Wabasca, including one year as Community Medical Director, Dr. Mabhegedhe "has demonstrated kindness and compassion despite all of his struggles as well as the struggles which face our community," reads his SPIRIT Award nomination.
"I actually didn't know I was good at that," he says, then laughs. "I always liked connecting with people. I like to get to know people for who they are, because I think sometimes we judge people on face value before we get to know them. Before I get to judge someone I need to get to know where they are coming from, what are their circumstances. We need to look into the context."
Living and practising in a small rural community has allowed him to get to know his patients well and to understand their individual circumstances, he adds.
"Thank you to my nominator. To me it boils down to the support systems one has. I have a great team here in AHS and Wabasca Community as well as at the Golden Opportunity Clinic. Also, I have a very supportive wife and daughter. Our most important asset as human beings is not a head full of knowledge, but a heart full of love, an ear ready to listen and a hand ready to help others."
TEAMWORK: Hythe Continuing Care Centre
Teamwork is the key to success at Hythe Continuing Care Centre — and it's never been more evident than this year as the team continues to garner accolades.
The team's work was recognized early in the year by the Heath Quality Council of Alberta (HQCA) in its 2017 Long-term Care Family Experience Survey Report of Alberta, which ranked the care centre as the top facility in the North Zone. Hythe Continuing Care Centre was then recognized by the Rural Health Professions Action Plan (RhPAP) with a 2018 Health Care Heroes Rhapsody Award, and now a SPIRIT of Excellence Award also recognizes their great work.
"The Hythe Continuing Care Team are truly grateful for these awards," says manager Cheryl Klassen. "Team members include staff and volunteers representing a variety of departments and health care disciplines. It is the unique strengths of each individual — when combined with the talents of co-workers — that we achieve this excellence in patient-centred care and the positive family experience."
With collaboration that reaches from frontline staff to physicians and pharmacists as well as the Family and Resident Council and volunteers, their teamwork approach to person-centred care is a major focus in Hythe.
"As spokesperson for this team, I am so truly appreciative of the contributions from each team member," says Klassen. "We are all in this together, we are ecstatic and full of gratitude for these awards of recognition."