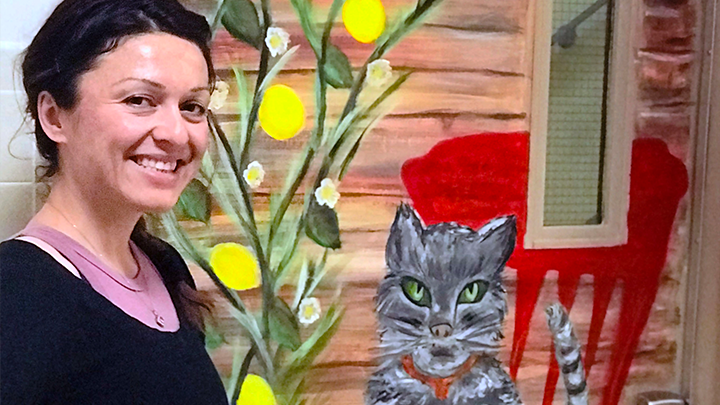 Foothills nurses take up brushes, transform unit walls into canvases to improve patient experience
Story by Gregory Kennedy
CALGARY — The tendency to wander off, or to see what's on the other side of the nearest door, occurs frequently with mental health patients who have dementia or behavioural issues. For the price of a little paint and artistic inspiration, staff with general medicine Unit 32 at the Foothills Medical Centre have created scenic wall murals that not only deter exit-seeking by disguising doors, but promote a calming atmosphere to lessen anxiety and stress for patients.
Research also suggests that units with colourful, joyful focal points not only make hospitals safer, but also promote healing and foster positive moods — making for a better patient experience as well as a more welcoming workplace for staff.
"I've always been motivated to create art. I feel it improves everybody's quality of life and well-being," says registered nurse Jelena Marjanovic, who painted several murals for Unit 32. "I'm just grateful to paint; I've always enjoyed it — and I enjoy seeing people appreciate the work. I love to see them happy."
Her creations so far include a mural at the unit's main entrance, with the word 'welcome' in 36 languages, ringed by colourful wildflowers and greenery. "It looks very inviting," she adds.
She masked the exit doors with a painting of a huge aquarium. "It's spurred many conversations with our patients about fish, and it actually prevents patients exiting, because they'll stand there before this big aquarium wall, stare at it, and wonder instead about the sea life."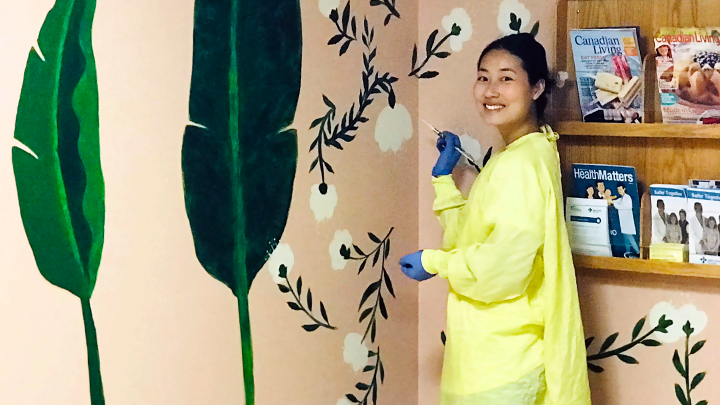 For a side door, "I did a girl reading a book of poems. She's lounging, drinking tea, with a puppy sleeping nearby. It's a nice, comfortable scene. People say they enjoy it and like looking at it. It's a make-yourself-comfortable kind of image."
One door in the unit became her canvas for a fluffy grey cat on a vintage rocking chair under a lemon tree, while another now features a mountain vista at sunrise, reminiscent of the Banff wilderness.
As she painted her murals, with each taking four to six hours, "I would have patients watching me, or offering suggestions and critiquing my work," adds Marjanovic, who recently moved to Los Angeles. "That was really neat. One even named the grey cat I painted Ashes, because she'd had a similar cat years before."
Lelia Park, also a registered nurse on the unit, invested 20 hours to create a two-wall mural of graceful white cranes, airborne flowers and lush greenery. "When I first walked into my unit, I felt it was a little bit dreary," she says, then laughs. "I just wanted to liven up the space."
To foster diversity and kindness, Park's mural also features a quote by the 13th-century Persian poet and scholar Jalaluddin Rumi: "Listen with ears of tolerance! See through the eyes of compassion! Speak with the language of love!"
Raj Bhatti, the unit's manager, has nothing but praise for his team's artistic efforts.
"The murals in the patient/family space and the unit entrance have made the space more inviting, comforting and positive," he says. "The murals inside our unit and at the exit doors have helped with distracting dementia patients, which has led to a reduction in Code Yellows (missing person alerts), as well as creating a warm and calming atmosphere for staff.
"I have received lots of positive comments. Studies have shown that visual art like murals have positive effects not only on patient well-being, but also on health outcomes such as length of stay in hospital and pain tolerance."
The paintings, done in acrylic, are seal-coated, wipe-able and very easy to keep clean.
"It's been really wonderful and gratifying," says Marjanovic. "I'm grateful for my manager for believing in me and letting me do the murals. It's really nice to see how they brighten everyone's mood."
Program manager Dianne Benner adds: "The murals have added a spark to the unit that fosters a spirit of caring and compassion as well as a sense of calm. I am proud to work with such a committed and creative team."
"Our next project is to paint our unit's private room doors in bright colours," says Bhatti. "We want to make patient rooms more bright and uplifting, as well as to make rooms more easily identifiable — so confused patients will know which room they belong to simply by recognizing the colour on their door."