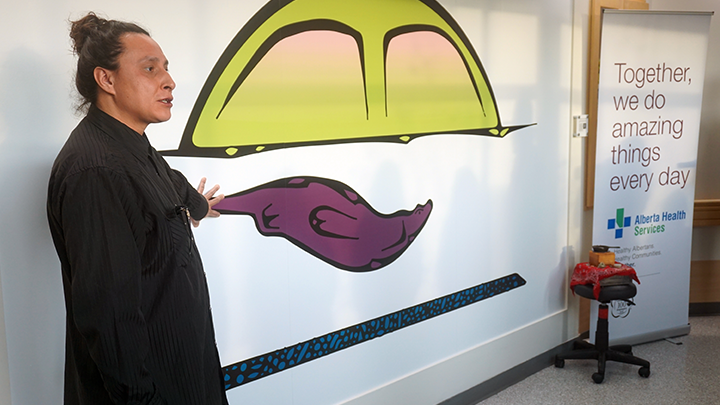 Elders, AHS and Indigenous artist partner to enhance awareness in Red Deer
Story & photo by Melissa Ballantyne
Patients, visitors and staff at Red Deer Regional Hospital Centre (RDRHC) have a new opportunity to enhance their awareness of Indigenous culture.
A new mural, created by Indigenous artist Ryan Jason Allen Willert, now graces the main corridor that links the emergency department with the main part of the hospital.
Contracted by the RDRHC Cultural Safety Working Group in consultation with local Elders, the work is intended to foster further cultural awareness throughout the facility.
"The goal of the project was to improve patient and provider experience and to continue the process of improving culturally safe delivery of care at RDRHC," says Allan Sinclair, Senior Operating Officer, Central and South, Central Zone.
"This is just one of the many ways we're working to incorporate Indigenous culture into the healthcare system and living AHS values."
The artwork, entitled The Otter, was selected from among three works Willert presented to Elders.
"I'm very pleased they chose this piece for the hospital," says Willert, who learned the art of black ink from his father, also a well-known Siksika Nation artist. "The Otter is a reminder to be present and appreciative. When you learn to appreciate the positive and the negative, life becomes a little bit easier.
"The Otter is also a war spirit. He's our partner in battle. No matter what that battle is — illness, mental health and addictions — The Otter is here to help us through."
Willert, an accomplished artist, storyteller and role model in the community, is often sought out to give presentations for youth outreach and inspirational sessions.
AHS is committed to implementing the calls to action and recommendations mapped out by the Truth and Reconciliation Commission and the United Nations Declaration on the Rights of Indigenous Peoples, wherever possible.
Work in this regard includes mandatory Indigenous Cultural Competency education for all employees to foster a deeper understanding and appreciation of Indigenous culture and customs. In Central Zone, as well, cultural safety working groups have been established at RDRHC and Wetaskiwin Hospital and Care Centre.
"These working groups are a significant step forward towards ensuring every patient who accesses healthcare at our facilities can do so in culturally safe and supportive environment" says Tracy Lee, Senior Advisor. Indigenous Health, Central Zone, who oversees the implementation of both Central Zone groups.
"There's still a lot of work to be done, but the work of these groups, including the mural you see today, shows we are moving forward."