Walking a few steps in the shoes of a cancer patient
Walking a few steps in the shoes of a cancer patient
December 4, 2017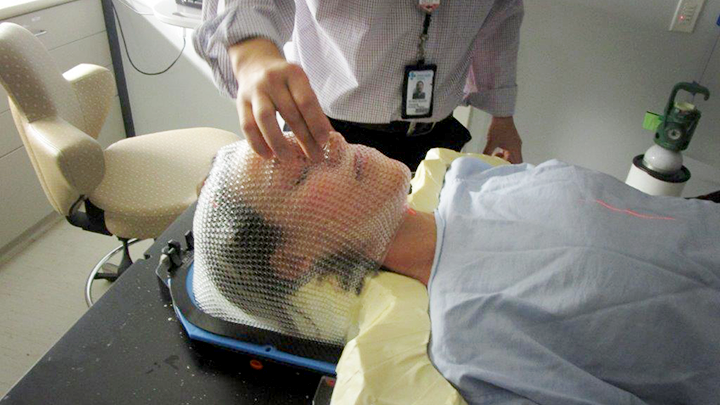 Director of Tom Baker Cancer Centre experiences 'radiation therapy' to gain valuable insight
Story by Kristin Whitworth
CALGARY — They say you can never truly understand what someone's going through until you walk a mile in their shoes. For Teresa Davidson, Executive Director of the Tom Baker Cancer Centre (TBCC) here, taking a few small steps gave her a huge insight into what her patients experience.
"I thought that, as a leader in AHS, it's important to take time to walk a few steps in the shoes of a cancer patient," says Davidson.
Working with one of her managers, they came up with a few ways for Teresa to experience what it would be like to go through radiation therapy treatment.
"I had a radiation mask made, wore a blue gown for a few hours, laid down on a radiation bed for a simulation treatment, they did a mock procedure with the machine moving around me and the bed tilting, and even sat in a wheelchair to be taken from room to room."
Davidson says it was a valuable experience to view the department from a different perspective and hear the staff explain the many steps in the process.
"It made me really appreciate how much our patients go through — and how caring our teams are," she adds.
"I was astounded by how much our staff care about the details and take the time to explain it all. Comfort is a very big deal for radiation treatment and I felt very cared for as staff kept asking if I was warm enough, comfortable and always checked to make sure I felt OK while they molded things around my head — over my face — and rolled me into these massive machines."
For Patient & Family Centred Care Week this year, which ran Nov. 6-10, all teams in AHS were encouraged to find ways to recognize that patients and families are indeed at the centre of care.
Davidson says she felt her time spent in the Radiation Therapy Department was a memorable way to celebrate the week and learn firsthand what it's like to be a patient undergoing radiation treatment.
"What matters to patients and families drives everything we do here in CancerControl Alberta," says Davidson, "and as a leaders, connecting with the experience of the people we serve is vital to informing decisions and supporting staff in providing excellent care."
According to Davidson, it was an eye-opener, yet humbling, to glimpse how patients feel.
"I sometimes felt vulnerable and yet everyone was very friendly and helpful. I was proud of my team and I know without a doubt that they treat all their patients with the utmost respect and dignity."
As well as gaining insights into the patient's role, Davidson also gained a deeper appreciation for her staff at the Tom Baker Cancer Centre.
"Staff were able to show me how much they consider safety, comfort and attention to detail. They talked me through every step of the process and explained things in a way that I could understand. They really demonstrated how they go the extra mile for patients each day."
Would she do it again?
"Yes, of course," Davidson says without hesitation. "All leaders should take some time to shadow or walk a little in the shoes of our patients and families."