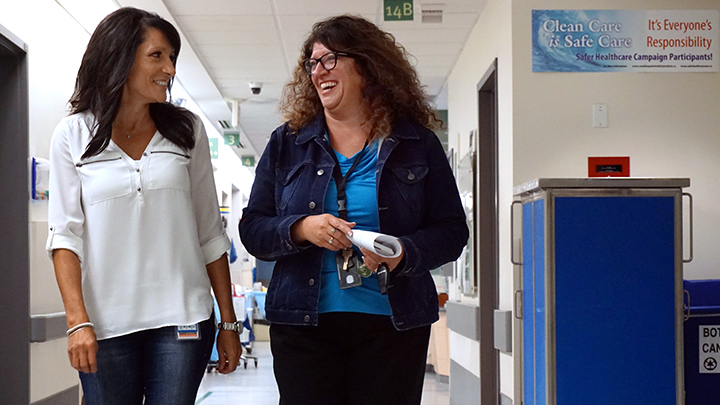 Red Deer's Domestic Abuse Response Team gives immediate support in times of crisis
Story & photo by Melissa Ballantyne
RED DEER — For individuals living with the pain and trauma of domestic violence, a specialized partnership has come together to give them the support and resources they need to change their life for the better.
The Domestic Abuse Response Team (DART) provides immediate crisis support to people experiencing domestic violence. It's operated by the Outreach Centre and Alberta Health Services (AHS) in the Emergency Department at Red Deer Regional Hospital Centre.
And that support can be life-changing.
"We know domestic violence has a direct impact on a person's health," says Ronnie Biletsky, co-ordinator of the Central Alberta Sexual Assault Response Team and domestic violence services at the hospital.
"The DART partnership enables front-line workers in the emergency department to quickly connect patients with the resources they need to improve their situation and make positive changes in their lives. As far as I'm aware, there's no other program like this in the province."
Following a three-month pilot, DART has received two-year funding from the AHS Family Violence Prevention Treatment Program. To date, 96 referrals have been made to the DART team. It's hoped this partnership model can be adapted to the specific needs of cities and towns throughout Alberta.
Domestic violence takes many forms, from physical and verbal to emotional or mental abuse. It happens to both men and women, and also occurs between family members or persons in a relationship. Regardless of the form experienced, individuals who come to the emergency department (ED) in Red Deer will find help 24 hours a day.

Patients who identify that domestic violence is an issue in their lives will be connected with DART members, who will discuss safety concerns, create 24-hour action plans and provide support and referrals to individuals being treated in the hospital's ED following a domestic violence incident.
"The need, value and response is being recognized," says Barb Barber, executive director of The Outreach Centre. "Alberta has the third-highest rate of reported domestic violence in Canada. While the country as a whole has seen a decrease in domestic violence, the latest data shows Alberta saw a two per-cent increase over the previous year.
"Connecting patients to resources and support at the time of crisis greatly increases the opportunity for a positive and safer outcome for themselves and their children."
For individuals like Lori, who struggled to leave an abusive relationship, DART has proven successful in helping her find a doctor and a therapist. She also takes part in active safety planning on a weekly basis and says she's less depressed and has gained insights into positive and healthy relationships. For others, like Anne, the connections to local resources offered through DART have helped her ensure a safe place for her children.
"It's so much easier for people to receive help than ask for help," says Biletsky. "By bringing resources right to the individual at that time of crisis, we're seeing a much greater uptake than we had in the past."
Having support come to her has made a difference for patients like Rebecca, who was repeatedly physically and emotionally assaulted by a partner who also used finances as a means to control her. Today, thanks to safety planning, crisis intervention, education regarding domestic violence and a little confidence boost, Rebecca has moved to a new province where she now lives in a safe environment and attends school full-time.
"DART did something amazing for me," says Rebecca. "They helped me realize that the current abuse I was facing did not define who I was — and that I could escape my current abuse if I was willing to access continued supports."
(Editor's Note: Client names above have been changed to protect confidentiality.)