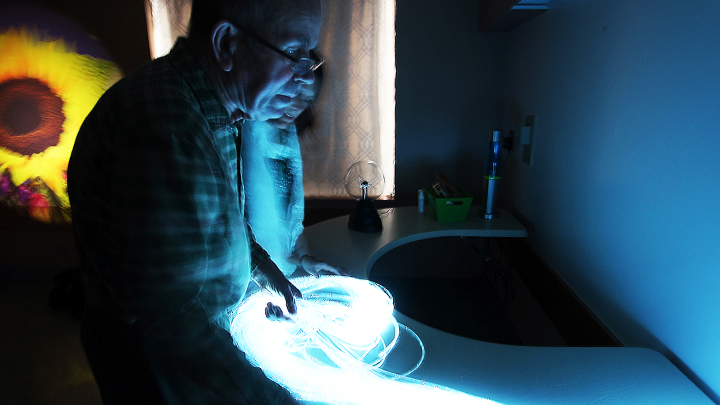 AHS celebrates staff who promote wellness, prevent illness during Allied Health Week
Story and photo by Sherri Gallant
In a multisensory room at Coaldale Health Centre, Herman Stroeve loops strands of colour-changing fibre-optic lights about his hand like a coil of rope. The strands glow in the darkened room. As he handles them, captivated, the long-term care resident softly reminisces about fixing a fence and mending a trough.
"We'll see how that works," says Stroeve, who once ran a feedlot operation. He sets down the lights, satisfied.
Later, resident Evelyn Herter watches images of kittens and puppies projected onto the wall, as she snuggles a plush kitten placed in her lap by recreation therapist Jackie Scholten.
"Oh, they're so sweet," Herter exclaims. "So soft!"
Scholten, a recreation therapist for 18 years, had wished for a multi-sensory room for years. This past summer, her wish became a reality.
Similar rooms have also been created at Cardston and Crowsnest Pass Health Centres and the Geriatric Acute Rehabilitation Unit (GARU) at Chinook Regional Hospital. These rooms are being celebrated during Allied Health Week, Nov. 6 – 10.
"Multisensory stimulation therapy improves the quality of life and well-being for residents with cognitive impairments like dementia," says Scholten. "We opened the room this summer… we now have eight residents using it as therapy."
"This is a non-pharmacological intervention," adds Scholten, noting that residents taking part in multisensory stimulation therapy have reduced their use of medications.
The equipment and philosophy behind a multisensory room is called Snoezelen (pronounced 'snuzelen') from the Dutch words for 'sniff' and 'doze'. It was founded in Holland for individuals with cognitive and developmental disabilities. Multisensory rooms draw upon a wide range of equipment: bubble tubes, projectors with images, desktop waves, fibrotic lights, aromatherapy, music and sounds, or tactile objects such as lap mats, aprons, weighted blankets, and textured items.
For patients who struggle to respond to their environment, Snoezelen therapy can benefit their senses.
"As people age, their sensory perceptions dull," adds Scholten. "Participating in therapy, individuals seem to come alive and engage in their environment."
Recreation therapists assess and identify a client's specific needs, sensory preferences and interests before beginning therapy. A detailed therapy plan is developed to achieve a specific treatment goal.
Giesela Wise noticed changes in her husband Mike's demeanor after he began using the Snoezelen room.
"I have not seen my husband smile like that in a long time," she says. "I want them to carry on with taking him to the room, because it's obviously stimulating to him."
Scholten said more equipment will soon provide more options for room participants, including a nearly two-metre-tall bubble tube mounted in front of large mirrors.
Allied Health Week runs from Nov. 6-10. This week is about acknowledging the unique role of Allied Health professionals who work in hospitals and the community to prevent illness and promote wellness.