Youth ER surveys aim to improve patient-centred care
Youth ER surveys aim to improve patient-centred care
September 12, 2017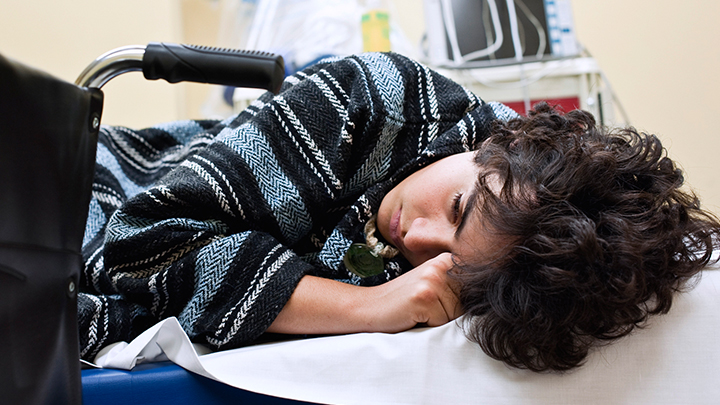 Emotional crises linked to mental health, drug abuse driving children, youth and families to emergency
Story by Shelley Rattray
New surveys for children, youth and their families — designed to help healthcare staff better understand their emergency room (ER) experiences and provide better patient-centred care — have been created by the Addiction and Mental Health and Emergency Strategic Clinical Networks.
Many children and youth are going to emergency rooms across Alberta in times of emotional crisis, often related to substance use or mental health issues.
Teenager Amy Braun, who took part in survey development, says opportunities like this create an opportunity for youth to make a difference.
"(This will) help Alberta Health Services get an actual sense of what youth need," says the 17-year-old Calgarian who attends Bowness High School and served on the youth team that reviewed and provided feedback for the survey.
Two surveys are available: one for individuals who visited emergency between the ages of 15 and 24 years; and one for families who have visited emergency with a child between the ages of 7 and 24.
Each survey will ask what led to an emergency visit, what help they hoped for and received, and what happened when they left. This will help AHS map out a patient's journey to improve care for children, youth and their families.
Having youth play a key role in survey development was important to ensure it resonates with them, says Dr. Nicholas Mitchell, Senior Medical Director for the Alberta Health Services Addiction and Mental Health Strategic Clinical Network.
"This survey is to help us better understand what youth may need when they are having an emotional crisis, and therefore having youth be part of the development is paramount to ensure it is understandable and written in a language that will resonate with them," says Mitchell.
The surveys, which take about 10 minutes to fill out, will also help AHS map out the patient's journey to help improve care for children, youth and their families.
AHS staff who have taken their own child to emergency, or who are under the age of 25 and have gone there themselves, are also encouraged to take the survey.
"We know staff are often asked to provide feedback regarding their clinical expertise, but we really want them to put on their patient hat and provide us with their own personal experiences," adds Dr. Mitchell.
"Everyone's voice matters and the more individuals we hear from the better we are able to understand the patient journey and in turn provide better patient-centred care."