Newborns benefit from a familys good fortune
Newborns benefit from a family's good fortune
August 15, 2017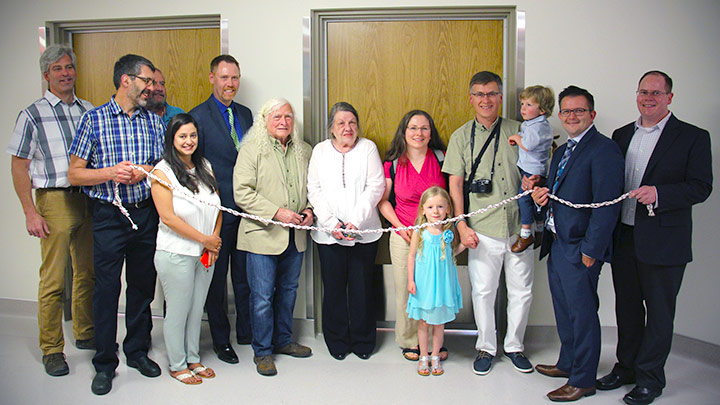 Philosophy of sharing funds two new labour and delivery rooms for Canmore
Story and photo by Lisa Sutherland
"Sharing" is a word echoed many times by Lorne Heuckroth, a generous donor whose family's sense of community led to the development of two new labour and delivery rooms at Canmore General Hospital.
"It's about sharing the good fortune I've had in my life," says Heuckroth, 82, "and giving back to a community and a province that has given me good fortune."
And share the wealth he did — to the tune of a $710,000 — through his donation to the Canmore and Area Health Foundation, which spearheaded the construction of the state-of-the-art rooms. Their July 20 opening doubled the labour and delivery space at the site.
"The extreme and gracious generosity of Lorne and Joyce Heuckroth and their daughter Kimberly has made the addition of two labour and delivery rooms at the Canmore General Hospital a reality," says Soulafa Al-Abbasi, the foundation's executive director.
"The Heuckroth family has blessed our community and has honoured our foundation's mission statement: Supporting the present. Ensuring the future. Creating a legacy for a healthy community."

Mountain views, dimming lights and accessible showers are just a few of the features of the new rooms, designed with input from former patients, physicians, nurses and housekeeping staff.
With the Canmore hospital on track to deliver about 350 babies this year, they'll come in mighty handy.
"My wife Joyce and I will never use these rooms," says Heuckroth, "but it's our hope that moms, babies and families who choose to deliver at this fine hospital have the best start possible."