Primary Care saves golf game and a life
Primary Care saves golf game — and a life
August 15, 2017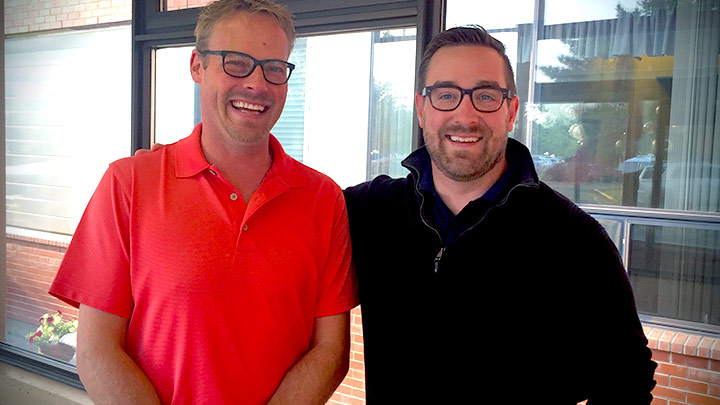 Routine visit for sore foot leads to cancer diagnosis
Story and photo by Lisa Laferriere
When Trevor Haunholter went to see his physician last fall, he thought he had a pretty mundane complaint — a sore foot.
"I'm not the type of person who goes to the doctor for every little thing," says the 32-year-old Grande Prairie resident. "In fact, I used to try and avoid it as much as I could."
In truth, Haunholter admits he only booked the September appointment so he could play in an upcoming golf tournament.
"I couldn't walk on my foot for a whole day and wanted to make sure I was able to golf," he says, then laughs.
He never imagined a sore foot could result in such a serious diagnosis.
His family physician, Dr. Abdalrhman Shnishah of the GP Medical Clinic, was unable to identify the source of his foot injury and suggested some routine bloodwork. The results came back showing abnormal levels of Thyroid-Stimulating Hormone (TSH).
TSH controls thyroid-gland activity in the body, and abnormal TSH levels can mean several things, depending on each person's unique situation.
A few months later — and after some follow-up appointments, including an ultrasound — a cancerous nodule was discovered on Haunholter's thyroid gland.
He then heard the words that no one wants to hear: "You have cancer."
"It was a really helpless feeling," says Haunholter. "My whole life, I've been an incredibly healthy person. I haven't really had any health issues, and this was just a shock."
His foot pain wasn't related to his cancer diagnosis, but the decision to see his family physician that day might have saved his life.
"At the end of the day, all of the decisions about my healthcare were mine to make, but I really counted on the professionals to give me advice," adds Haunholter. "I just decided to trust them and go with everything they suggested."
Last April, Haunholter underwent surgery to remove his thyroid gland at the Queen Elizabeth II Regional Hospital in Grande Prairie.
Surgeon Dr. Richard Beekman says it's a good thing they caught the cancerous nodule when they did.
"It's important that people regularly visit their family physician," says Dr. Beekman. "Primary care should be a person's first point of contact for their healthcare whenever they have a concern or question.
"Don't avoid or put off seeking help because, in some cases, it may save your life."
Haunholter agrees.
"I used to be one of those people who used to avoid going to the doctor" he says. "But now I say when in doubt, always go."
After surgery, he was treated with radioactive iodine at the Cross Cancer Institute in Edmonton.
"I cannot say enough good things about everyone who helped care for me," says Haunholter. "Every single person was incredible."
As Haunholter continues his healthcare journey — routine follow-up appointments are scheduled through the next year and onwards — he recognizes things could have been much worse.
"This experience was a big wake-up call. It definitely made me appreciate my life, my health and having access to a family doctor a whole lot more."
For more information about Primary Care, please visit www.ahs.ca. For a list of physicians accepting new patients visit the College of Physicians and Surgeon of Alberta website.