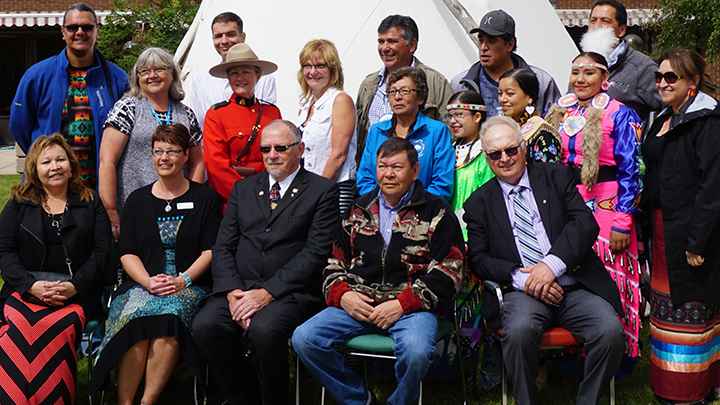 'When you understand each other, you trust each other more'
Story by: Melissa Ballantyne
Mamowohkamatowin: a Cree word meaning 'helping one another' set the tone for an event held at the Two Hills Health Centre on June 28.
About 95 participants met in the hospital courtyard where a tipi had been erected and tipi teachings of unity, family and community were shared.
"Two Hills has always been an integral part of the Saddle Lake Nation," says Tammy Tarkowski, Site Manager of the Two Hills Health Centre. "In fact, the hospital sits on Treaty 6 land.
"We've been working with the Saddle Lake Health Care Centre for the past 18 months and, last year, developed a cultural awareness liaison role in partnership with the Saddle Lake Cree Nation and Health Canada," Tarkowski says. "This event was an opportunity to introduce this important role in a formal way and to continue to build bonds between the communities of Saddle Lake and Two Hills."
Participants included the Saddle Lake Chief and Council, Saddle Lake Health Care Centre Administration and staff, Saddle Lake Education, members of the Saddle Lake Cree Nation, as well as Alberta Health Services, Health Canada and the Two Hills community. Tarkowski says they met to strengthen a commitment to work together to improve health outcomes, reinforce relationships and educate staff and community members through cultural awareness.
A key member of that goal is Mabel Shirt, the cultural awareness and safety worker for the Saddle Lake Cree Nation, which numbers more than 10,700 people. Shirt is a direct link between First Nations patients and their care teams.
"We're all here working together," she says. "Everybody contributes to establishing a working relationship; we all have a part in it."
Shirt regularly visits Cree patients at the hospital to provide companionship and to ensure their thoughts and concerns are passed onto their healthcare teams. As well, recently she has begun educating healthcare personnel to help them improve their understanding of First Nations culture and traditions.
"I've had a particular focus on palliative care and the long-term care side where our Elders may stay," says Shirt. "They may not speak English well – if at all – so I've taught staff to understand a little bit of the Cree language. Basic words like tansi (hello) and awiya (ouch), and phrases like ni-wi-sa-ke-te-n (I'm hurting) or wicihin (help me), and to say wihtamawin (tell me more about it). This understanding helps the nurse or doctor take better care of their Indigenious patients."
Shirt says her interactions with staff have been exceptionally positive and she's happy to see a ripple effect through sharing her culture's history and practices.
"What I teach to one nurse, she may share with another, or go home and share the information with her family. It's a positive thing that's helping to expand understanding not just in healthcare, but through the whole community.
"When you understand each other, you trust each other more. And stronger and better working relationships provide for better quality of care for our people."
For more information about Indigenous Health services and programs within AHS, visit http://www.albertahealthservices.ca/info/Page11949.aspx.