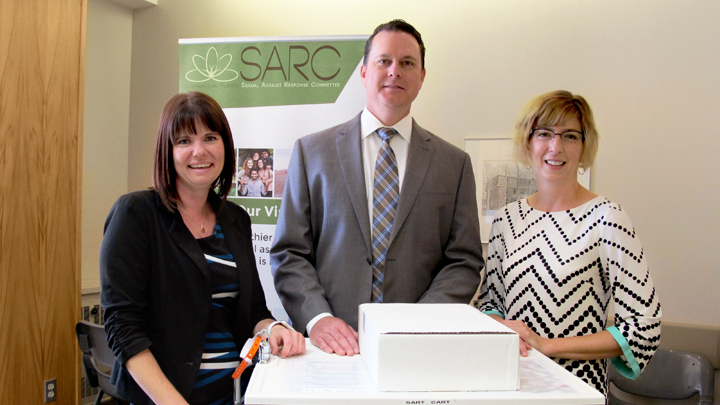 AHS joins police, community to give individuals more options across Medicine Hat region
Story and photo by Lisa Squires
Individuals who have been sexually assaulted in the Bassano, Bow Island, Brooks, Medicine Hat and Oyen areas now have access to a dedicated team of physicians.
This improved medical care and community supports are the direct result of a new partnership between Alberta Health Services (AHS), local police and the Southeastern Alberta Sexual Assault Response Committee (SARC) that came into effect June 1.
"Medical care is always available to anyone who has been sexually assaulted," says Dr. Lena Derie-Gillespie, Team Lead for the AHS Sexual Assault Response Team (SART), South Zone (East). "What's changing is how we provide care so that patients will feel more supported throughout the entire process."
The Medicine Hat Sexual Assault Response Team (SART) provides medical care and sexual assault examinations to people 14 years of age and older within 96 hours of the assault. This includes treatment and prevention of sexually transmitted infections and other blood-borne infections, pregnancy-prevention options and management of other medical concerns as well as providing resources for follow-up care such as counselling. Children under the age of 14 are referred to a pediatrician.
SART physicians work collaboratively with emergency department physicians, nurses and social workers, patients, local police (when requested by the patient) and SARC.
Dr. Derie-Gillespie says all patients seeking care at an emergency department for sexual assault now have three care options depending on their situation: medical care only; medical care and immediate reporting to police; or medical care with anonymous evidence collection while the individual decides next steps, including whether to report the incident to police.
SART assists when a patient requests that forensic samples be collected, which could assist in a police investigation if the individual decides to report the assault to city police or RCMP.
"Sexual violence can have psychological, emotional and physical effects," says Staff Sgt. Trevor Humphries, Medicine Hat Police Service, Major Crimes Section.
"Having a specialized team to provide immediate and ongoing support to victims will improve their care, as will providing them the option to report the crime to police when they are emotionally able to, without the loss of physical evidence."
From 2012 to 2017, emergency departments in Medicine Hat, Brooks, Oyen, Bassano and Bow Island provided care to 114 individuals who reported being sexual assaulted. However, over the last year, SARC has seen a 350-per-cent increase in demand for counselling services. From April 2016 to March 2017, SARC assisted 212 individuals affected by sexual violence. Of these clients, about one in four reported the incident to police, and only six per cent accessed medical care immediately after the assault.
"As more sexual assault/abuse survivors come forward, service providers need to be prepared and work together," says Christina Johnson, SARC Executive Director.
SARC is a registered charity that offers sexual trauma-focused counselling services for survivors and those affected by sexual violence. They also provide awareness, education and additional links to community supports.
Johnson invites readers to visit the SARC website to learn more about how the organization supports survivors in need through counselling services or comfort kits.
Comfort kits can include items such as toiletries, clothing or blankets, and are provided to sexual assault survivors who attend the Medicine Hat Regional Hospital or access services through Victims Assistance.
"For anyone who has been sexually assaulted, please know that you did not do anything wrong; you are not alone," says Dr. Lena Derie-Gillespie.
Additional care options following sexual assault can include:
Seeing a family physician or calling Health Link 811;
Southeastern Alberta SARC at 403-548-2717;
Connect Family and Sexual Abuse Network at 1-888-237-5888;
Calling local police at any time.
AHS provides sexual assault response teams and services throughout Alberta.