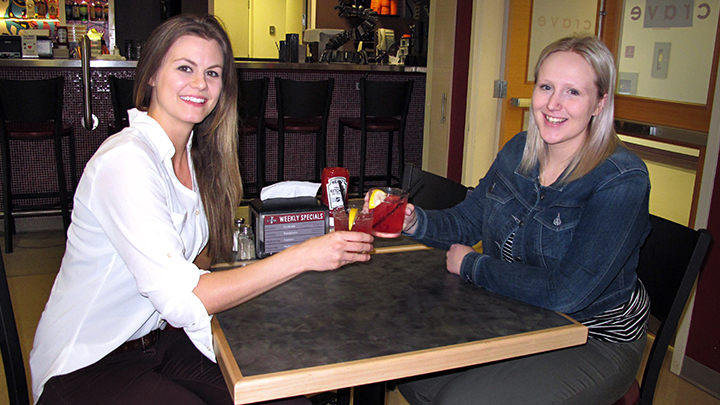 AHS campus toolkit offers advice on how to reduce high-risk drinking among students
Story and photo by Lisa Squires
MEDICINE HAT — Mixing alcohol, partying and friends can make a risky cocktail for post-secondary students, with unwanted consequences.
"Knowing about drinking risks, like binge drinking, helps students protect ourselves and our friends," says Mike Gurski, 27, a second-year education student who recently attended the Last Clash Bash at Medicine Hat College (MHC) on April 7.
The event, organized by the MHC Students' Association (SA), celebrated the end of classes and the Rattlers' 2016/2017 athletics season with an evening at Crave Pub and Grill, the on-campus bar. To ensure a fun, safe event, the SA used an Alberta Health Services (AHS) toolkit called Pre-Think Your Drink, says Jaycene Mock, health and wellness coordinator for the association.
AHS created Pre-Think Your Drink to help student leaders, student groups and administration generate a culture of responsible drinking on campuses across Alberta. The toolkit offers a step-by-step guide on how to conduct a campus needs assessment around drinking, strategies for sharing safety messages, how to plan activities and evaluate programs.
"It's the end of classes — and we know some people were going to drink," says Mock, adding about 2,700 students attend the college. "Even though students were in the pub, we made sure to provide access to free food, non-alcoholic beverages, health information and safe rides."
Beth Lewis, SA President, says many first-year students and those who live in residence can be at increased risk for binge drinking, but scare tactics and "don't drink" messages don't work.
"We wanted to put on a fun event for students in a comfortable, safe environment where we could provide additional supports to help them make smart decisions," says Lewis.
She says she was pleased to see almost 200 students at this year's event, which featured a chip buffet and poutine bar, live music from a Lethbridge band, The Suit Jacket Society, and safe rides given by Mothers Against Drinking and Driving.
According to the Canadian Centre on Substance Abuse, harmful alcohol use can result in intoxication or alcohol poisoning. It can lead to unwanted sexual advances, or sexual assault, and also contributes to chronic health conditions and disease.
However, the 2016 National College Health Assessment noted that 98 per cent of students say they employ strategies to stay safe, such as: stick with the same group of friends when out, eat before and during drinking, and use a designated driver.
"For some college students, this is their first time being away from home and being independent," says Justin Boodhoo, a health promotion facilitator with AHS Addiction and Mental Health.
Boodhoo made sure there were safe-drinking resources on hand, such as information on Canada's low-risk drinking guidelines, the dangers of binge drinking, symptoms of problem drinking and strategies for staying safe, like making sure you have your ID, money, cellphone and a safe ride home.
It's important to have a game plan if you choose to drink.
"Set limits and stick to them," advises Boodhoo. "Drink slowly. Have no more than two drinks in any three hours and have a glass of water between drinks. If you plan on going someplace else, make sure you have a safe ride."
Students at the event received information about Canada's low-risk drinking guidelines. The Canadian Centre for Substance Abuse defines a standard drink size as: beer, 341 ml (12 oz.), five per cent alcohol; cider/cooler, 341 ml (12 oz., five per cent alcohol; wine, 142 ml (5 oz.), 12 per cent alcohol; and distilled alcohol (rye, gin, rum, etc.), 43 ml (1.5 oz.), 40 per cent alcohol.
The centre recommends no more than two drinks a day, 10 per week for women, and three drinks a day, 15 per week for men, with one extra drink for special occasions.
Though more work remains to be done to further reduce binge drinking on campus, efforts are already making a difference, and students are listening.
"This event was a great idea," says Gurski. "Stuff like this helps build the college's identity and makes students feel more comfortable. My friends and I are close and keep each other safe when we go out. We've got each other's backs."
If you are concerned about your own or someone else's drinking, please visit www.ahs.ca/amh/amh.aspx.
If you'd like to reduce drinking risks on your campus, please check out the Pre-Think Your Drink toolkit at www.ahs.ca/prethinkyourdrink.