'Mr. Hal' may be a faker, but he's a lifesaver
'Mr. Hal' may be a faker, but he's a lifesaver
March 14, 2017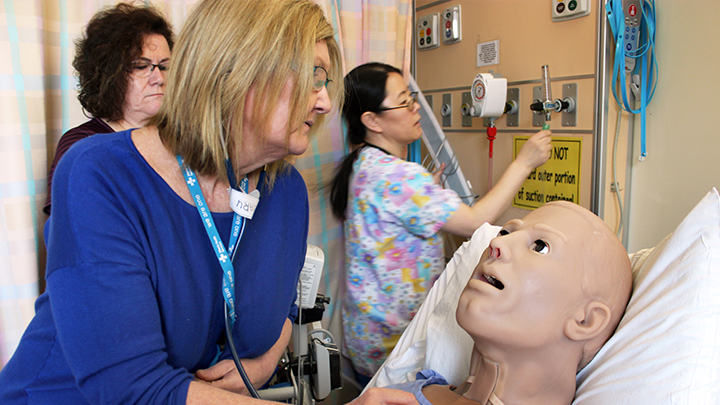 High-tech mannequins in eSIM simulations give staff a safe way to practise, hone skills
Story & photo by Sherri Gallant
Two nurses were examining their patient, 'Mr. Hal', for clues that might shed light on his sketchy vital signs and rapidly deteriorating health.
The pasty-faced 'Mr. Hal' blinked his doll-like eyes in response — but pulling his strings, so to speak, was a medical trainer elsewhere in the room. She controlled his every symptom from a computer tablet, and even spoke for him using her own voice.
Predictably, 'Mr. Hal' went downhill fast — and then his heart stopped. As he flatlined, his nurses sprang into action.
Thankfully, 'Mr. Hal' was feeling no pain. Plastic, rubber and wires have no nerve endings.
As one of the Educate, Simulate, Innovate and Motivate (eSIM) mannequins now in use at Chinook Regional Hospital for a wide range of simulated staff-learning scenarios. 'Mr. Hal' plays a valuable role in giving staff the skills and speed that can make a big difference for real patients in crisis.
On this day, the nurses performed well under pressure in a Code Blue scenario — but if things had gone sideways, no one would have died. Mannequins are lucky that way.
That's the beauty of eSIM exercises, says trainer AnnaMaria Mundell, Simulation Consultant in the west part of South Zone.
"Through SIM training, staff can practise and develop their skills in a variety of scenarios safely, knowing there's no risk to a real patient," says Mundell. "And they get immediate constructive feedback."
Chinook's eSIM equipment arrived from the Provincial Simulation Program in October 2016. Training began in January of this year. Exercises take place in the SIM Lab as well as in unoccupied patient rooms, when possible.
Some mannequins can blink and talk. Their chests rise and fall as they breathe. With their tablet, trainers can also simulate vital signs such as pulse, heart rate, blood pressure and oxygen levels for staff to monitor.
"Teams can practise running IV fluids or mock blood transfusions using coloured water," Mundell says. "As well, each simulator is equipped with microphones and speakers so instructors and actors can hear what the trainees are saying and respond appropriately."
'Mr. Hal' is hardly a cheap date, however. These high-tech mannequins — which come in child, newborn and adult models — can cost between $50,000 and $100,000.
But when he's on the job, the focus is on interdisciplinary simulations, bringing diverse teams together to practise and learn together.
To date, scenarios have included inpatient stroke care, conversations about goals of care and dealing with an aggressive patient.
"We can simulate any situation in the healthcare system," says Mundell, "from activating an Emergency Disaster Management scenario, to calling RAAPID (Referral, Access, Advice, Placement, Information and Destination services), or working with specialists remotely."