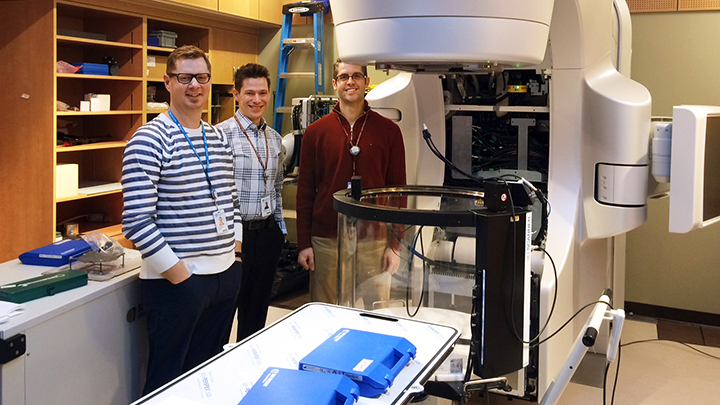 New linear accelerators to streamline radiation therapy and improve patient experience in Calgary and Edmonton
Story by: Greg Harris
A $20-million investment in new radiation therapy machines in Edmonton and Calgary will soon help to streamline cancer treatment and improve the patient experience.
The Tom Baker Cancer Centre in Calgary and Cross Cancer Institute in Edmonton are both currently upgrading space to accommodate two new linear accelerators each — called Linacs — which use high-energy X-rays to destroy cancer cells.
At Tom Baker, crews are creating two radiation treatment spaces for the new equipment and a more spacious control area by converting space taken up by three of the facility's older radiation vaults. One of Calgary's new Linacs arrived on Feb. 11 and is expected to be up and running in June.
"This is going to be a space where patients can come in and see they're getting the best treatment possible," says Wendy Smith, director of Medical Physics at Tom Baker.
"The new Linacs add functionality, such as CT imaging and body mapping, which will allow us to enhance accuracy while at the same time reduce treatment times," Smith says. Frontline teams contributed to the design of the remodeled space, which is aimed at improving workflow.
In both Edmonton and Calgary treatment areas, patients will be surrounded by panels illuminated with soothing environmental images — a design feature that's intended to make the space more relaxing.
Linacs have an average life expectancy of about 10 years; replacing them is much more complex than simply swapping out an old one and plugging in a new one.
"The vaults that house this equipment need to be brought up to current construction standards," notes Chris Birk, Manager of Radiation Therapy at the Cross Cancer Institute. "Depending on the circumstances, that can mean adding more shielding to contain the radiation, or providing access to a specialized chilled water supply rather than domestic water."
Even after the Linacs have been delivered, a months-long process is required for testing and commissioning the equipment. The first new Linac in Edmonton is expected to be operational sometime in May.
The second new Linac in each facility is projected to be online in 2018. To minimize disruptions in patient care, staff in both facilities have extended the hours during which they provide radiation therapy treatment.
About half of all cancer patients receive radiation therapy, the most common form of which is external beam treatment delivered by Linacs. Once they're up and running, the new Linacs will deliver highly accurate and complex radiation therapy treatment.
Taken together, Tom Baker and Cross Cancer deliver more than 100,000 radiation therapy treatments to Alberta cancer patients each year.