White Rose blooms with kindness for the dying
White Rose blooms with kindness for the dying
February 17, 2017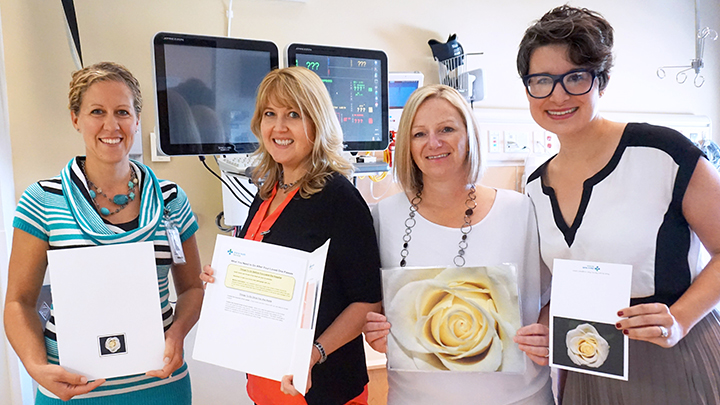 Red Deer intensive-care team adopts new program to support patients and families during end-of-life care
Story & Photo by Heather Kipling
RED DEER — While death is a natural part of life, the subject is also naturally shrouded with fear and uncertainty for loved ones, their families and even hospital staff.
"Having a patient pass away is always difficult for the nurse caring for the patient and their family" says Cody Kelly, Registered Nurse and Clinical Nurse Educator in the Intensive Care Unit (ICU) at Red Deer Regional Hospital Centre. "Switching from curative to comfort care wasn't something we felt as prepared for, as other units, who focus more on palliative care."
To provide more support for patients, families and staff during end-of-life care, the ICU here has adopted elements of what's known as the White Rose program.
"We knew we wanted to improve on the way we provided comfort care — not only for our patients, but for their families and our staff as well," adds Kelly.
The unit set about to make changes, borrowing elements from the program created by the Fraser Health Authority in B.C., which supports patient- and family-centred care and better acknowledges patients and families as a loved one is dying.
When comfort care is all that can be provided, the program provides a consistent guideline to staff in supporting patients and their families. A checklist walks nurses through what to do before and during end-of-life care as well as meaningful steps once the person has passed.
"We wanted to create something that would support the nurses in supporting these patients and families," says Registered Nurse Danielle George, who has witnessed similar programs in action, and who helped bring the White Rose initiative to Red Deer.
"People come to us to get better and we've got so much technology in an ICU to keep people alive to help them get well," she says, "which makes it really hard to change gears from providing curative care to providing comfort measures."
Adds George: "I've been involved in a lot of deaths and they're not easy. It's stressful for nurses and we don't want that stress to be passed onto our families in these upsetting and emotional times.
Having a list helps nurses get into the right mode of care — and helps make them more comfortable. When (we're) more comfortable, families are more comfortable."
"Our first family — that we were able to provide the program for — was to a young daughter whose mother passed away from heart failure," says RN Nurse Kelly Lehmann, Clinical Resource Nurse. "The daughter felt lost and asked me what to do next; that's when I provided her with the folder."
The young lady, and two other family members who were present, using the materials provided by Lehmann to plan their next steps.
"I felt that I had something to offer and help," adds Lehmann. "It's really gratifying knowing I made a difference in a situation that's very difficult."
In addition to guidelines for nursing staff, the program also sees a White Rose sign placed on the door to the dying patient's room, to increase staff awareness and foster a quiet, compassionate atmosphere for all.
"Our environment has a lot of noise, so the White Rose sign lets people know to watch their volume outside the room. It also lets other departments like Laboratory and Diagnostic Imaging know not to go in once the person has passed, if tests haven't been cancelled before they happen to arrive," adds Lehmann, "We've also developed resource packages for families to help guide them through the days following their loved one's passing. Families often ask 'what do I do now' — so we have a guide to help them through, as well as a funeral booklet. We also provide each family with a condolence card."
The program, which is used by other AHS sites as well, officially launched December 2015 in Red Deer, after collaboration with other departments, clinical experts and pastoral care services.