Woodworking creates solid connections
Woodworking creates solid connections
January 31, 2017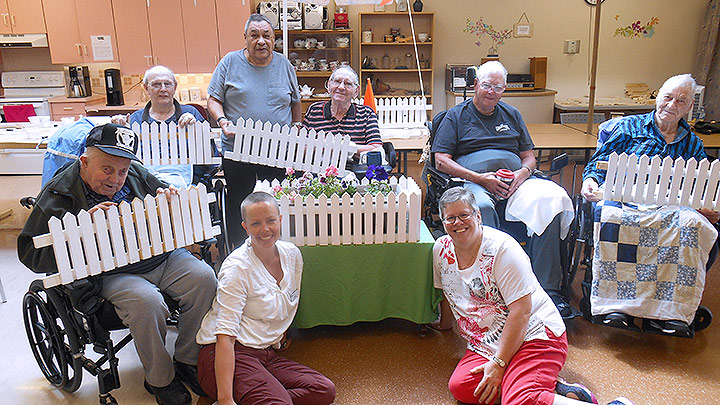 Rimbey program provides socialization, therapy to long-term care residents
Story By Heather Kipling
RIMBEY — Carpentry, camaraderie and a cup of coffee — they're all part of a special program for the men who reside in Long Term Care at the Rimbey Hospital and Care Centre.
For the past two years, the recreation therapy department has been offering a weekly woodworking program to a group of 6-10 men that sees simple pieces of wood turned into custom creations and works of art.
"I learned woodworking the hard way, through trial and error years ago, says resident Martin Maclean, 78. Being able to still pick up a hammer or a paint brush now is just wonderful."
Recreation therapy assistant Rachelle Mulek agrees.
"It's an excellent way to get the men more involved in a social activity," she adds. "We had requests in the past to look at adding a program for just the men, as they aren't always interested in some of the other programs and events we might have at the site.
"One of the residents brought in some woodworking books, and we're fortunate to have found some gentlemen in the community who stepped forward to help us with it."
From April to September, a corner of the therapy department resembles more of a workshop, with bits of wood, small tools and cans of paint. And over the sounds of hammers and sanding, the hallways are filled with snatches of jovial conversation and memories of times gone by.
"It sure helps pass the time," says 80-year-old Elvin Robinson. "The coffee is good, but it's nice to be able to do some woodworking again. Building something with your hands out of wood is the ultimate. I wouldn't miss it."
From birdhouses to planter boxes and Christmas decorations, the program offers six to eight projects for residents to complete — from assembly to the final coat of paint. A number of completed projects have also been raffled off or included in silent auction events at the facility, with the money coming back to the program to buy more supplies and tools.
Recreation therapy assistant Nancy Haarstad says while the group may look and sound like it's all fun and games, the woodworking program provides serious health benefits.
"It supports cognitive skills and function, as well as fine and gross motor skills, and provides both sound and sensory stimulation," says Haarstad.
"And it promotes socialization, which is an important thing as we age. When the men gather for the program, it's a chance for them to talk to someone, to interact and reminisce and have that social time. That can make a big difference. I've learned a lot from their conversations."
Across Central Zone, recreation therapists and therapy assistants like Mulek and Haarstad work in a variety of areas, providing care and support to patients on acute care, mental health, pediatrics, palliative, rehabilitation and long-term care units, as well as in assisted-living complexes, residential group homes, community day programs, community health centres and Corrections facilities.
Through their work, and programs such as the woodworking group in Rimbey, recreation therapy staff improve or maintain the physical, mental and emotional well-being of their patients. Activities can help with recovery of basic motor functioning and reasoning abilities, build confidence, help clients to socialize more effectively and teach them how to access community resources.
For the residents taking part in Rimbey, the opportunity to work with their hands is not only beneficial for their health, but is most welcome.
As for Maclean, he says he doesn't plan on giving it up anytime soon.
"I enjoy the painting. It's easier than using a hammer and nails, but with painting, if you're going to do it you've got to do a good job of it and take pride in your work," says Maclean. "I take pride in the projects we do, and it's exciting to see them come together."