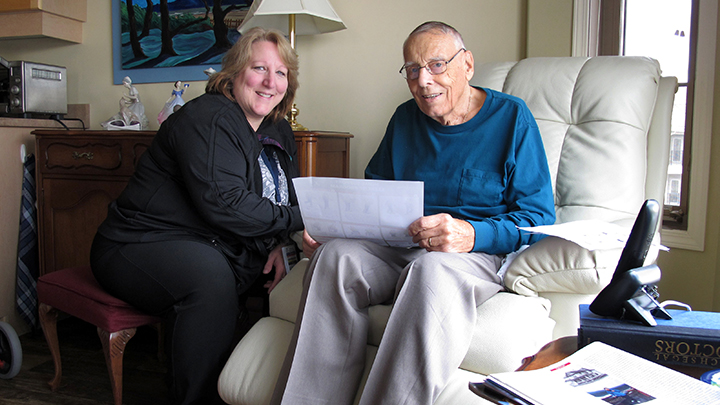 Home exercise program gets seniors moving to improve independence and well-being
Story and photo by Lisa Squires
Up until 15 years ago, Cliff Wright could have been a posterchild for physical activity. Wright, 85, is a retired pharmacist who used to love skiing, sailing and swimming. He also volunteered on numerous provincial and federal health boards, and rarely visited his doctor or needed care.
But in 2001, he was diagnosed with prostate cancer.
"I've never been the same since," says Wright, who recently moved into Masterpiece Retirement in Medicine Hat with his wife, Eleanor. He can no longer walk without the aid of a walker.
But Wright's not giving up. He's one of many clients benefiting from Alberta Health Services' (AHS) Home Support Exercise Program (HSEP), a free physical activity program designed for older adults.
"I didn't hear about the program; they found me," says Wright, who was referred by his medical team. "I'm trying to get back to walking. The stretching and exercises help."
The program is provided by recreation therapists and therapy assistants trained in senior fitness testing and certified by the Alberta Fitness Leadership Certification Association. Therapists work with individuals in their homes to provide a physical fitness program using a series of 10 simple, progressive exercises to increase a person's strength, balance, flexibility and cardio-respiratory fitness and endurance.
Over 10 weeks, each client's progress is tracked. The goal is to help people increase their physical activity and transition into fitness programs at local YMCAs, fitness centres and seniors' facilities. The program originated from the Canadian Centre for Activity and Aging.
"A lot of people referred to us are sedentary," says Belinda Hurlbert, the recreation therapist who worked with Wright. "We use these 10 exercises to move every joint in every part of the body and help people start moving again."
According to Canadian Physical Activity Guidelines for Seniors, older adults need about 150 minutes of moderate aerobic physical activity per week. In Alberta, only 35 per cent of people aged 65 years and older report they are physically active.
And although Wright had been physically active, prior to joining the program he had endured side effects from radiation treatments for his prostate cancer, which is now in remission.
"I've lost so much muscle mass," he says. "I'm out of breath just walking from my front door to the elevator (about 20 ft). I couldn't even walk a block.
"Without this," Wright says, pointing to his walker, "I'd fall over."
Wright's completed the 10-week HSEP program and has seen some improvements.
"I can do most of the exercises," he says. "The only one I can't do is get up without help after I've been lying down, but most days I feel fine. Life is good."
Hurlbert says the HSEP helps participants reduce their risk of falls, maintain and improve their level of function, independence and quality of life, and reduces the amount of physical assistance they need from others, which improves their overall sense of well-being.
The Medicine Hat Community Therapeutic Recreation Program currently has 10 clients actively participating in the Home Support Exercise Program. Hurlbert says the secret to success is in teaching people "why" the exercises matter.
"I explain how doing wall pushups helps strengthen specific muscles that makes it easier to pick up their grandchild," she says. "I also tell people you're never too old to be active."
Clients may be referred from the Primary Care Network, the Alberta Healthy Living Program, Home Care and other providers. Individuals can also self-refer, although they may a doctor's note to participate.
For more information on the Home Support Exercise Program, call Annette Yunick at 587.220.4413.