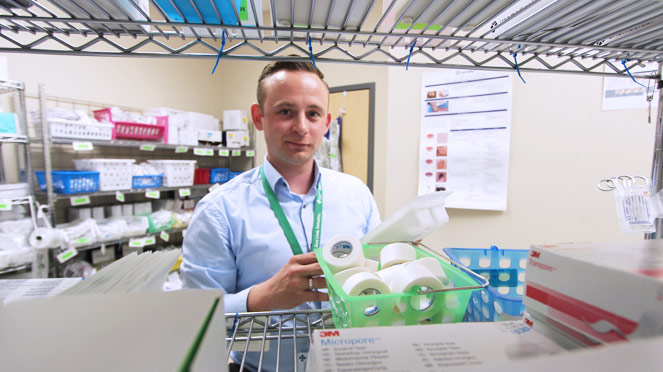 South Zone public health inspector says illness rates are falling
Story by: Sherri Gallant
It happens every year. Influenza or gastrointestinal illnesses find their way into care facilities, making vulnerable residents sick – and perhaps the staff, as well.
By being prepared for these disease outbreaks and detecting them early, adult care facilities have experienced shorter outbreaks that involve fewer residents across the South Zone, thanks to a collaborative program with Seniors Health, led by Geoffrey Tomko, a public health inspector with AHS Environmental Public Health (EPH).
In Tomko's role, he's the first point of contact for adult living facilities under contract to AHS. He helps staff strengthen preventive measures for controlling diseases and manage them effectively when they occur. Controlling stubborn antibiotic-resistant infections is also part of his job.
"Our goal is to identify, investigate and control those big diseases we always have had and probably always will have," Tomko says. "We do the best we can to reduce the transmission as much as possible, without inhibiting the care, or the clients' quality of life."
And Tomko, 30, says it's been a success.
"We have had a reduction in the illness rates since we started six years ago. We put a lot of work into training before an outbreak starts, so staff will recognize the symptoms of the two big outbreak culprits – influenza and gastro – and report early, which is a big player in inhibiting disease. If it is a true outbreak, we investigate, do measures and hopefully control it."
In the past six years, gastrorelated outbreaks have declined from a 20.2 per cent attack rate (among the total population of residents in contracted care facilities) to 11.1 per cent.
Tomko liaises with the South Zone's integrated Communicable Disease Control team, which is made up of public health professionals from many disciplines: nurses and health inspectors, workplace health and safety, laboratory, pharmacy, emergency and disaster management, and infection prevention and control.
"Provincially, all adult-care facilities are health-inspected on a regular basis, but here what we're doing is adding a few more preventive aspects," he says.
Proactive measures include making sure facilities have specific outbreak kits on site to test for viruses and other diseases. When a resident is sick, a home care nurse can quickly send the test kit for lab analysis to identify the type of illness.
Tomko also ensures facilities have all the ingredients to do proper infection control, which includes ensuring staff have access to the personal protective equipment they need so they don't transmit the germs.
A secondary effect of these proactive measures is being able to better control infections that can occur in care facilities or hospital settings.
"By doing the preventive work for outbreaks, it actually spills over into a lot of the disease prevention aspects for AROs (antibiotic-resistant organisms)," Tomko says. "The same principles apply. And another key piece is for staff to know they have a point of contact who they can call if anything comes up. That's me."
Tomko is responsible to cover 40 contracted care facilities throughout the zone and, when a new building is planned, he's involved at the earliest stages of design, ensuring the structure is conducive to infection-control principles.
"It's not unusual for a health inspector to do up to 1,000 health inspections a year," he says. "It's just the geography in the South Zone's a wee bit bigger than usual."