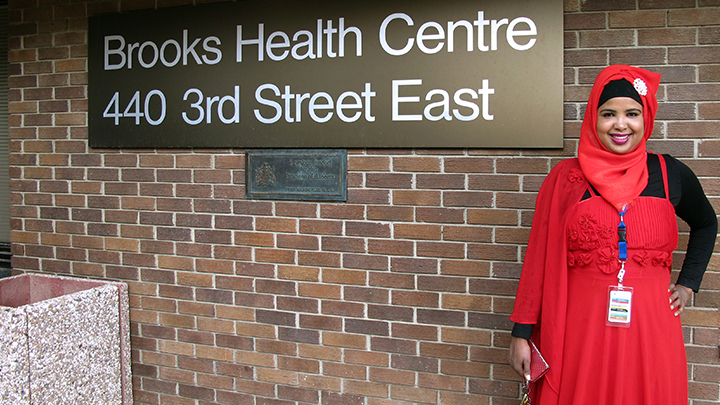 Health info given in native tongue
Story by Sherri Gallant; photo by Lisa Squires
Newcomers to Canada can face challenges in accessing health services and managing their own health. Factors like language, cultural perceptions and their previous experiences with other health systems all have an impact, and may leave them feeling a little lost and alone.
Alberta Health Services can provide newcomers with self-management tools through the Better Choices Better Health program, by training people in the community to be the trainers in self-help programs. Then, they can share tools and information with their own communities and groups. Now, there is a growing complement of new Canadians trained as trainers sharing information with participants in their mother tongues - including French, Tagalog, Mandarin and English, with some limited translation in Somali and Spanish starting this fall. Some different languages are offered in other AHS zones, according to their demographics.
Ikran Mohammed, 29, originally from Somalia, moved to Brooks with her family in 2008. A college student with a part-time job, Ikran attended a health presentation at the hospital in Brooks and met members of diverse communities who came to talk about health services and to learn about healthy living, nutrition and exercise. It was there she learned about Train the Trainer.
"It helps people be healthy and teaches them how to manage their time," said Ikran, now a certified leader who recently co-facilitated her first six-week session.
"If I train one leader, they will have the ability to impact their knowledge about self-management on many within their own communities," says Belinda Hurlbert, program co-ordinator. "Through 'Train the Trainer,' the new leaders learn through the coaching and mentoring from Stanford University's Master Trainers (the program source)." Programs are offered in Brooks, Medicine Hat and Lethbridge.