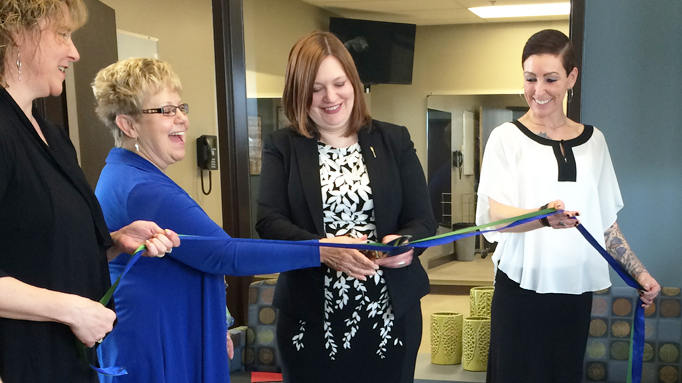 The new beds more than double the number of publicly funded treatment spaces in the community
Story by: Lisa Squires
Estimates show one in 10 Albertans over the age of 15 will battle a drug or alcohol dependency, but many southern Albertans are hopeful a new addiction treatment facility will be the first step towards an addiction-free lifestyle.
The new $7.6-million Medicine Hat Recovery Centre officially opened Mar. 23 and will begin accepting applications for residential treatment clients in April.
The Centre provides 18 addiction treatment spaces. Six beds will be used for short-term medical detoxification to help people withdraw safely from alcohol or drugs; the other 12 beds are designated for patients requiring longer-term residential treatment.
"During the Mental Health Review we heard that there is a strong need for more addiction treatment spaces in the province," says Brandy Payne, Associate Minister of Health who attended the grand opening and ribbon cutting. "Confronting addiction can be very difficult for people and their families, so we're very pleased that these beds are available to the Albertans who need them."
The new spaces replace the eight addiction treatment beds Alberta Health Services was providing at a temporary facility located in the same building as the remand centre.
When the temporary detoxification facility opened in 2014, it was the first residential detox facility in southeast Alberta. Since opening the temporary detox in November 2014, more than 290 registered clients received care, with 90 per cent from southeast Alberta; 145 clients participated in the intensive treatment program.
"Addictions are some of the most difficult chronic conditions to manage," says Dr. Vince DiNinno, Associate Zone Medical Director for South Zone. "As a consulting physician to the Centre, I see the positive impact it's making and hope people will feel welcomed and supported on their healing journey."
"The new centre will help not just individuals struggling with addictions, but entire families," says Pat Dorward, a family member of an addiction treatment client. "For families, the most important thing to know is that there's much more help than we ever realized. There's a whole network of people in Medicine Hat working together."
Now that the Recovery Centre has opened, the temporary detox space will be turned over to Alberta Justice for another purpose.
The new beds more than double the number of publicly funded treatment spaces in the community. And as of September 2015, there were 888 publicly funded addiction treatment spaces in Alberta.
There are also detoxification facilities in Fort Macleod and Calgary and resident addiction treatment centres in Lethbridge, Claresholm and Calgary. The provincial government also recently announced that six to eight new medical detox beds will open in Lethbridge.