Emergency department gets new central monitoring system
Story by Kerri Robins; photo by Bonnie Niebergall
When Ryan Tracey felt numbness in his left arm, he erred on the side of caution and went straight to the Medicine Hat Regional Hospital.
"I've had a history of heart trouble, and hurt my back recently, so I thought I should get it checked out," says the 31-year-old Medicine Hat resident. "And I'm happy I did because it was nice being monitored on some new equipment at the hospital."
Thanks to $800,000 in community support through the Medicine Hat & District Health Foundation, the hospital was able to buy a Central Monitoring System for its Emergency Department (ED) earlier this year.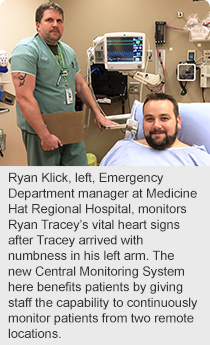 With electrodes attached to their chests, patients can now be monitored by staff using two monitors, one at each of the two nursing stations, with the upgraded central monitoring system. Being able to keep an eye on all their patients' vitals without having to be physically at their bedside, as they did with the older individual bedside monitors, is a big plus.
"Not only do we have two central monitors now, the system also keeps electronic records of the patient's history during their stay in ED," says Ryan Klick, Manager ED at the hospital.
"The system sounds an alarm to notify us of any heart event, like an irregular heartbeat," he adds, "and that's helpful for staff, knowing they can multi-task without worrying how their patients are doing. It's really helping us streamline our workflow."
Heather Bach, Executive Director of the Medicine Hat & District Health Foundation, says she's proud of her community fundraising.
"Our community members and businesses really came through; the support and donations we received is amazing," says Bach. "I'm really fortunate to be part of such a caring community."
As for Tracey, he's doing well, and adds that he's happy about the new equipment.
"It really gives me peace of mind knowing this equipment is here in case of an emergency."
For more information, please visit www.inyourcommunity.ca