Training RNs to join CancerControl Alberta north and south
Story by Kirsten Goruk
There's still time to get your application in for the CancerControl Alberta Nurse Practitioner (NP) Bursary.
"We chose to go with a bursary format because of ease and flexibility for the potential RN applicants," says Krista Rawson, Senior Practice Consultant, Advanced Practice Nursing with CancerControl Alberta. "CancerControl Alberta offers an innovative workforce initiative that supports patients in their communities. It's new in the sense that we've never targeted our regional cancer centres of Grande Prairie, Medicine Hat and Lethbridge – our North and South Zones."
The bursary is a joint collaboration between Alberta Health Services' CancerControl, the Alberta Cancer Foundation and Roche Oncology.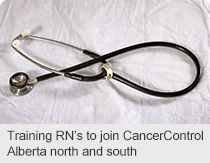 Each bursary offers a maximum of $40,000 toward tuition and associated costs for the masters of nursing NP program at either the University of Alberta or the University of Calgary. Applicants must be currently enrolled or be prepared to enrol full-time in the 2015/2016 academic year and be an active College & Association of Registered Nurses of Alberta registrant in good standing.
Those who receive the bursary agree to work in an area serviced by one of the targeted regional cancer centres in the North or South Zone immediately following the completion of their program.
"What we really want to do is be able to diversify our workforce to respond to the growing needs of cancer patients and in doing that, we want to attract NPs to our regional centres," explains Rawson.
"CancerControl Alberta has been in the process of expanding services at AHS' regional cancer centres across the province to deliver as much care as possible closer to home."
NPs are nursing leaders who focus on the holism of patient and family-centred care. From a clinical perspective, the NPs practice complements the care provided by the physician and the multi-disciplinary team.
"Part of the reason we want to attract NPs is because patient numbers and complexity of care is rising," says Rawson. "We need to have a sustainable cancer care workforce and part of that is being able to say that perhaps some patients will have access to exclusive care by a NP while others may need to see a medical oncologist or radiation oncologist."
The deadline to apply is Jan. 30. Each applicant is required to provide their curriculum vitae and two letters of support, including one from the applicant's current manager.
Applications and inquiries can be emailed to krista.rawson@albertahealthservices.ca.