Meditech Clinical Information System (CIS)
Meditech CIS is software which delivers and supports a wide range of applications creating a shared, province-wide, electronic health record. As a clinical system, Meditech allows clinicians to follow clients across the continuum of care, supporting the collection and sharing of patient information in some of the following patient care areas Emergency Departments, Acute Inpatients, Ambulatory Programs, Public Health and Seniors Health (Home Care/Long Term Care).
Please note: This page is optimized for viewing in Chrome or Firefox. If you require assistance to install them please contact your Local Service Desk.
Quick Links
Meditech Site Map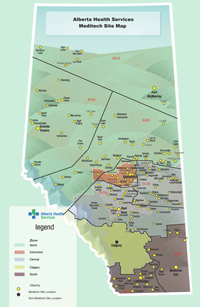 Quick Tips
Regional/Zone Guides

AHR – Aspen
NLR – Northern Lights
Meditech Module Guides

Abstracting (ABS)
Admission (ADM)
Care Manager - Public Health (CMPH)
Contracting, Procurement, and Supply Management (CPSM)
Community Wide Scheduling (CWS)
Emergency Department Management (EDM)
Enterprise Medical Record (EMR)
Imaging & Therapy Services - Diagnostic Imaging (ITS DI)
Imaging & Therapy Services - Transcription (ITS - Transcription)
Medical Records Index (MRI)
National Rehabilitation Reporting System (NRS)
Order Entry (OE)
Operating Room Management (ORM)
Patient Care System (PCS)
pDOC-Physician Documentation
Resident Assessment Instrument (RAI)
eLearning Modules

The following list of resources is available to support end users accessing and using Meditech 5.67.

To access an e-learning course listed here, scroll to the title, and click on it. The course title page will open. Complete the fields and click Start. Upon completion of the course you will see a prompt to print the certificate. Present this certificate to your manager.

e-Learning course for AHS employees please use MyLearningLink.

These are intended for employees who do not have access to MyLearningLink.